As a teenager, Preston Summers, 21, would get lost in the moment after launching his skateboard over the quarter-pipe at Charmette Bonpua Skate Plaza in the Baldwin Village neighborhood of South L.A. For the split second he and his board hung suspended in the air, nothing else mattered.
Not school. Not the neighborhood gang trying to recruit him. Not the other members of the group home he rotated in and out of. The skate park is only feet away from the L.A. Metro Expo Line. There, amid the cacophony of train wheels screeching against tracks, Summers found peace in the rolling rumble of his skateboard.
He couldn't know it then, but this physical creative outlet would lead him to steadfast friendships, community engagement and an entrepreneurial opportunity in the shape of a pop-up juice hut.
Summers took to skating early in his life. "I come from a skateboarding family. My brother was sponsored and everything," he said.
He moved from Palmdale to the Crenshaw area and transferred into View Park Continuation High School in 2005. Summers was relieved to find a nearby place where the black wheels of his Powell Peralta brand skateboard, with black trucks and orange accents, could get a little more love - and where he could perfect his favorite trick, the ollie.
Charmette Bonpua Skate Plaza, locally referred to as "Rancho", is tucked behind the Dorsey High School baseball diamonds as part of the Rancho Cienega Sports Complex. Besides a few illegible graffiti tags, it's extremely clean. According to Summers the ramps and obstacles at "Rancho" eclipse those at other skate parks in the city and have cultivated a fanbase.
"That park brought everyone together," Summers said, chuckling. "First person I met was Willey Neal. I met him at the park, he was sitting down and he was like 'Where you come from?' and I said 'Palmdale' and he said, 'Yeah, this is my park.'"
Neal was teasing, and soon his friendly face became one in half a dozen introducing themselves to Summers. The group called themselves the Rancho Locals: Jorge Robles was all about big stunts, Ryan Satram was the disciplined one, Thomas James was the guy with impeccable balance, Willford "Willey" Neal performed with a cool consistency. And then there was 6'2" Jair McKay.
"Jair is just 'that big dude at the park,'" Summers said with a laugh.
Summers used to wake up at 6 a.m. to fit in skate sessions before school. He would bomb down the hill from his house on Washington Boulevard and Gramercy Place toward Charmette Bonpua Skate Plaza about three miles away. In the mornings and after class all the Rancho Locals worked up a sweat grinding on the skate park's boxes and teaching each other to glide down worn rails. In conjunction with bonding over battle scars and skater lingo, Satram, James, Neal, McKay, and Summers all became more health conscious. They wanted better body fuel to pursue their athletic passion.
"When I skate, I have to eat very lightly, because if I eat too heavy, I feel sleepy and injuries happen," said Summers.
Oversized bottles of Naked Juice were passed around family-style on the sun-bleached concrete of the skate park. The juice was an escape from the bulky cinnamon buns sold at school and the myriad of fast food restaurants in the surrounding area.
It was and still is, hard to find healthy options in South LA. The Baldwin Hills and Crenshaw areas only have two grocery stores that serve a community of about 32,000 people. It's better odds than a lot of other areas-- Inglewood, the neighborhood just south of Baldwin Hills, has just one full-service store-- but food activists often complain of high prices and poor quality of produce. The fact that McDonald's outnumber grocery stores 2 to 1 in this area is the other reason why South LA is known as a food desert, an area that lacks affordable food that doesn't further the rampant obesity in the area.
For Thomas James, improving his food habits started with skateboarding but later became it even more personal. He told KCET, Southern California's public television station, that his dad died of clogged arteries. That's what convinced James to permanently commit to vegetarianism -- something he'd been exploring for a while.
After one skate session a few years ago, the young men noticed an office barbeque happening on the other side of the metro line. Drawn by delicious smells and curiosity, the Rancho Locals crossed the tracks to introduce themselves. They were graciously invited to join by a bearded young man named Daniel Desure, owner of the Commonwealth Projects design studio.
Desure was impressed by the ragtag team of disciplined athletes and their knack for engaging people in the community. The barbeque turned into a late dinner and eventually led to hanging out on the regular. Desure even earned an affectionate nickname from the group, "Pops," even though he's only 12 years their senior.
Roughly around the same time as meeting Desure the squad became increasingly passionate about drinking smoothies and juices but it was an expensive habit and there were limited options in the area.
"I was like 'What if we made our own shit,'" James said. "If you can put certain fruit together and you don't need no type of sugars or sweeteners, it be the best shit. The best, best, best."
Fortunately, older member "Pops" Desure was there to listen.
"Thomas gathered all the dudes that were loyal, all the dudes that he trusted. He brought me in like a godfather," said Summers. "He said, 'This is the deal: We're trying to get this juice bar started.' He told me I was a cool dude and he trusted me and that's basically what he did with everybody."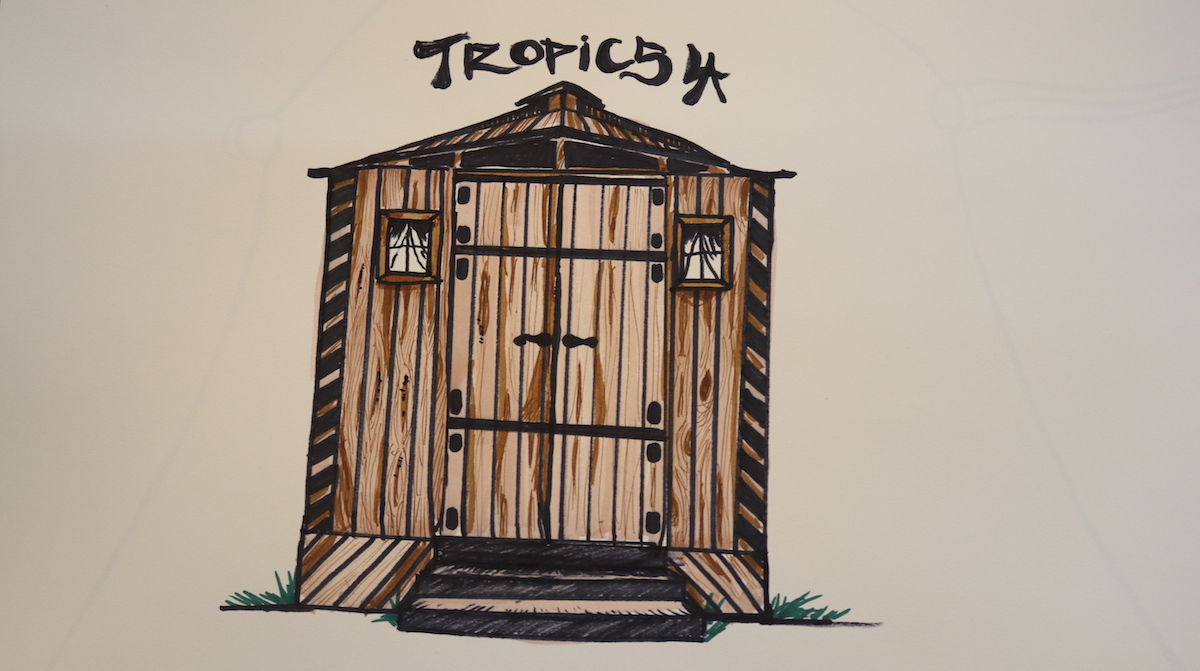 The friends decided to call the juice bar Tropics.
The name isn't just about the fruits and flavors in their products, it is also a subtle homage to a common nickname for Baldwin Village, where most of the crew grew up – "the Jungle".
Desure hooked up the entrepreneurial skaters with a a nearby gallery and community space started by other friends called the Underground Museum. It was a good home for the fledgeling pop-up juice shop, financially assisted by a campaign on Kickstarter, an online fundraising site. The Tropics team reached its donation goal of $60,000 a month faster than expected. Tropics launched the pop-up in early June of this year.
The early summer months were filled with culinary experiments. Ginger and lemon became integral to their palette. But they also ventured into more daring produce.
"I never knew you could juice parsley!" James said.
Sipping juice at the Tropics pop-up was a no-nonsense experience—none of the trimmings popular with real estate developers for their barebones, wood plank shack. Robles scoffed at the idea of decorating the place to fit the popular, modernist juice bar aesthetic. He said if Tropics is all about being natural, why would they consider additives in their space?
That zero-additives approach applies to their prices too. Most of their 12 ounce drinks go for $3 to $4, but they've served some juices for as little as $2.
Through their budding business, the Rancho Locals have discovered a lot about each other and themselves. Turns out Summers has a knack with a blade and a cutting board, and Willey is a talented accountant.
"It wasn't stressful at all because it was keeping us busy and keeping us filled with order," said Summers. "People naturally just filled in roles."
On their way to becoming entrepreneurs and community leaders, the 20-somethings have also discovered the hardships that can come with a new business.
"A lot of people doubted and said, 'How do you know this is going to support you guys?' or 'How do you know this is going to actually work?'" Summers said.
Socially conscious endeavors like Tropics grapple with a combination of the struggles faced by nonprofits and startups. For example, measuring community impact can be difficult. Tropics relies primarily on the number of juices sold to measure its influence on the neighborhood. However, that number doesn't provide detailed enough statistics to show if the pop-up has improved healthy food access to households in the area.
The Rancho Locals believe juice is one way to better the community, but they recognize that it can be difficult for their neighbors to address slow killers when there are more immediate threats to the Baldwin Village and Crenshaw area.
"There is still a lot of negativity [in the community]," Summers said. "We're still in the streets."
Police brutality is often in the back of the skaters' minds. South LA has a long, infamous history of officers using excessive force against residents. Over decades, that has bred a general feeling of distrust toward LAPD in many neighborhoods, including Baldwin Village.
In 2016, 157 people died in California during run-ins with law enforcement, according to a report released this summer by the state's Department of Justice. More than a third of those deaths happened in Los Angeles County. Among the grim roster of those killed by police last year, is Jimmy Bigges Jr. - a talented skateboarder and friend of the Rancho Locals.
For days after Bigges' death in February 2016, Charmette Bonpua Skate Plaza was filled with candles and flowers placed there in his memory. In the wake of losing their friend, the Tropics team started developing a juice to honor him and they doubled down on their commitment to juice.
"It's not just about healthy eating-- it's about habits period," Summer said. He dreams of spreading the Tropics message beyond Baldwin Village. "Wherever there is a food desert, we want to go there."
In just the last six months since Tropics opened, the team's efforts have garnered positive attention. Acclaimed California chef Alice Waters visited the juice bar in October, and now the acai company Sambazon is sponsoring them.
But alas, just like fruit, even the best pop-ups have an expiration date. Tropics' three-month stint at the Underground Museum ended in mid-October. For the Rancho Locals, the finale was bittersweet. They gave out free juices and eventually took down the hut, one wooden board at a time. Summers said jokingly that he even cried a little - on the inside.
For the next chapter of their healthy crusade, the skateboarders have their eyes on a pop-up at LA's Museum of Contemporary Art in downtown.
They all will be juice fanatics for the rest of their lives but selling it may not be in the cards for all the current Tropics members. Satram is an experienced welder and is well aware of the high turnover rate of fledgling food businesses. The lure of a steadier, more immediately lucrative job is tempting, even as he helps his friends plan next steps for the business.
Summers is holding out hope that Tropics will soon be able to financially support the whole team. He's keeping his eye out for a permanent location in and around their neighborhood. If that happens, they're considering adding a veggie grill and expanding the menu.
For now, the Rancho Locals are looking forward to a break. After months of toiling in their tiny pop-up kitchen, the old friends are happy to temporarily trade in chopping ginger and pressing grapes for more time to hang out in "the jungle" where their juice bar dreams began. At least for a little while, they'll be back to flipping, rolling and soaring at Charmette Bonpua Skate Plaza, just like they've been doing for more than a decade.