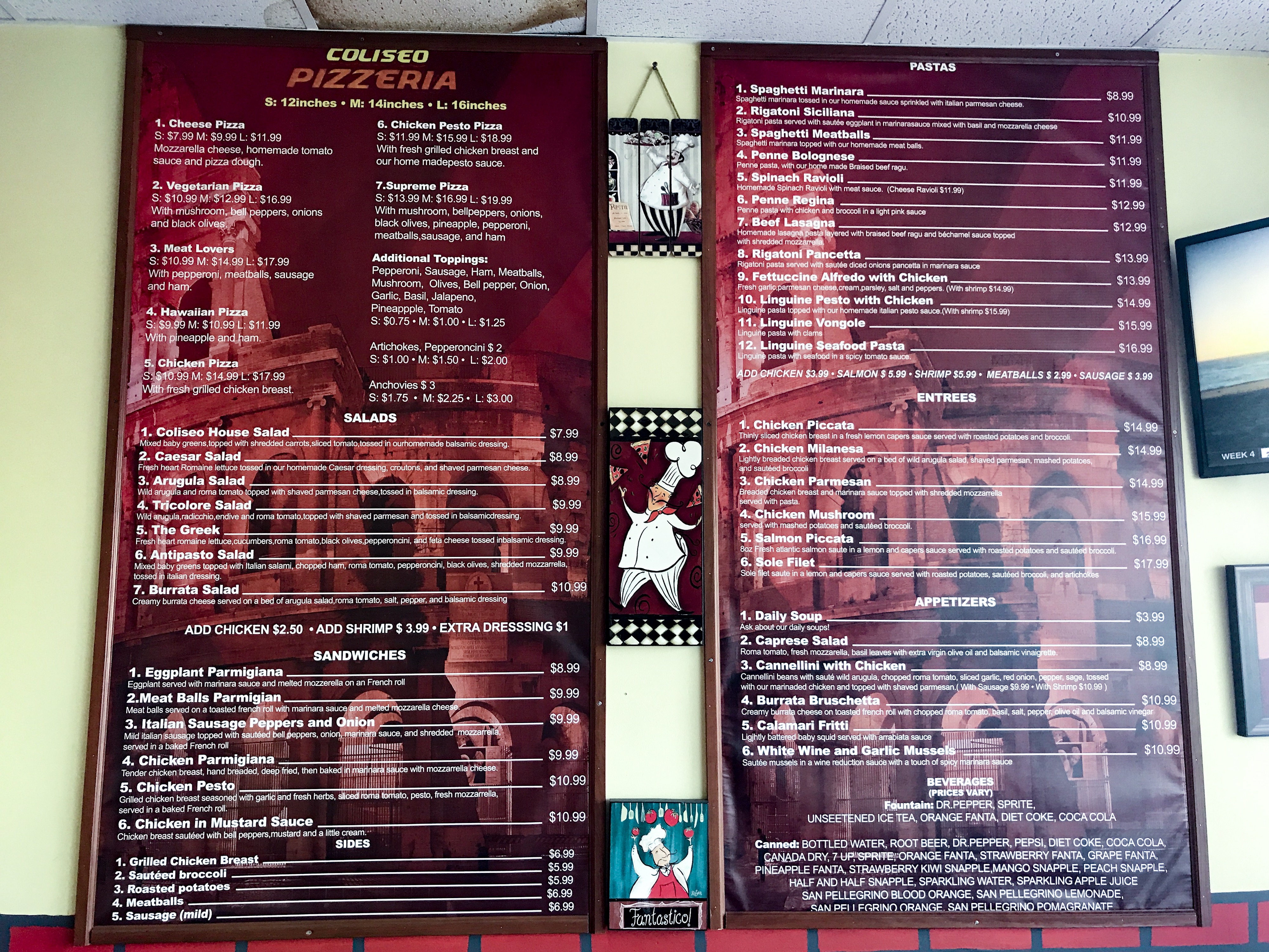 Coliseo Pizzeria's menu
Like millions of other Americans, Rodolfo Santiago migrated to Los Angeles, Calif. from Mexico in search of a better life, armed with hope and hard work but lacking a clear plan. Fifteen years later, Santiago embodies living proof that the modern American Dream remains alive, albeit some may argue it is barely breathing, as the proud owner and head chef of Coliseo Pizzeria in Baldwin Hills, Calif.
The restaurant itself is nondescript and difficult to find unless you're looking, as the best places usually are. Hidden away in a large strip mall on La Brea Ave just south of the bustling 10 freeway sits a small pizza joint. A neon tiny sign and blue awning are all that decorate the entrance. There is plenty of parking out front, sort of unheard of in Los Angeles, making this the perfect spot for easy takeout.
"We'll come here after school and pick up a pizza," said customer Angela Lopez. Her children like the food, and she likes the prices. "It's easy and it's convenient. The pizza is really good, definitely the best around here."
Coliseo Pizzeria is a beloved neighborhood spot in a neighborhood that is not well-known for its culinary institutions. In a neighborhood like Baldwin Hills that has yet to be overrun by Veganism and cold-pressed juice, trends that have invaded posh neighborhoods like West Hollywood, Coliseo Pizzeria is planting the seeds to quality food at affordable prices. The authentic Italian joint opened in 2015, moving from it's original location in the more upscale Studio City, Calif.
"We sell the same quality, it's just a different neighborhood," said Santiago, who speaks with a heavy Spanish accent. "It all depends on where you're at. You have to know your neighbored."
The prices have been adjusted accordingly. A $40 entree in Studio City translates into a $15.99 meal in Baldwin Hills. The costs can be brought down by scrapping the white table clothes and replacing them with checkered plastic ones; a large wait staff trims down to Santiago and two other employees, usually working in alternating shifts. The entire restaurant could only seat around 20 customers at maximum capacity.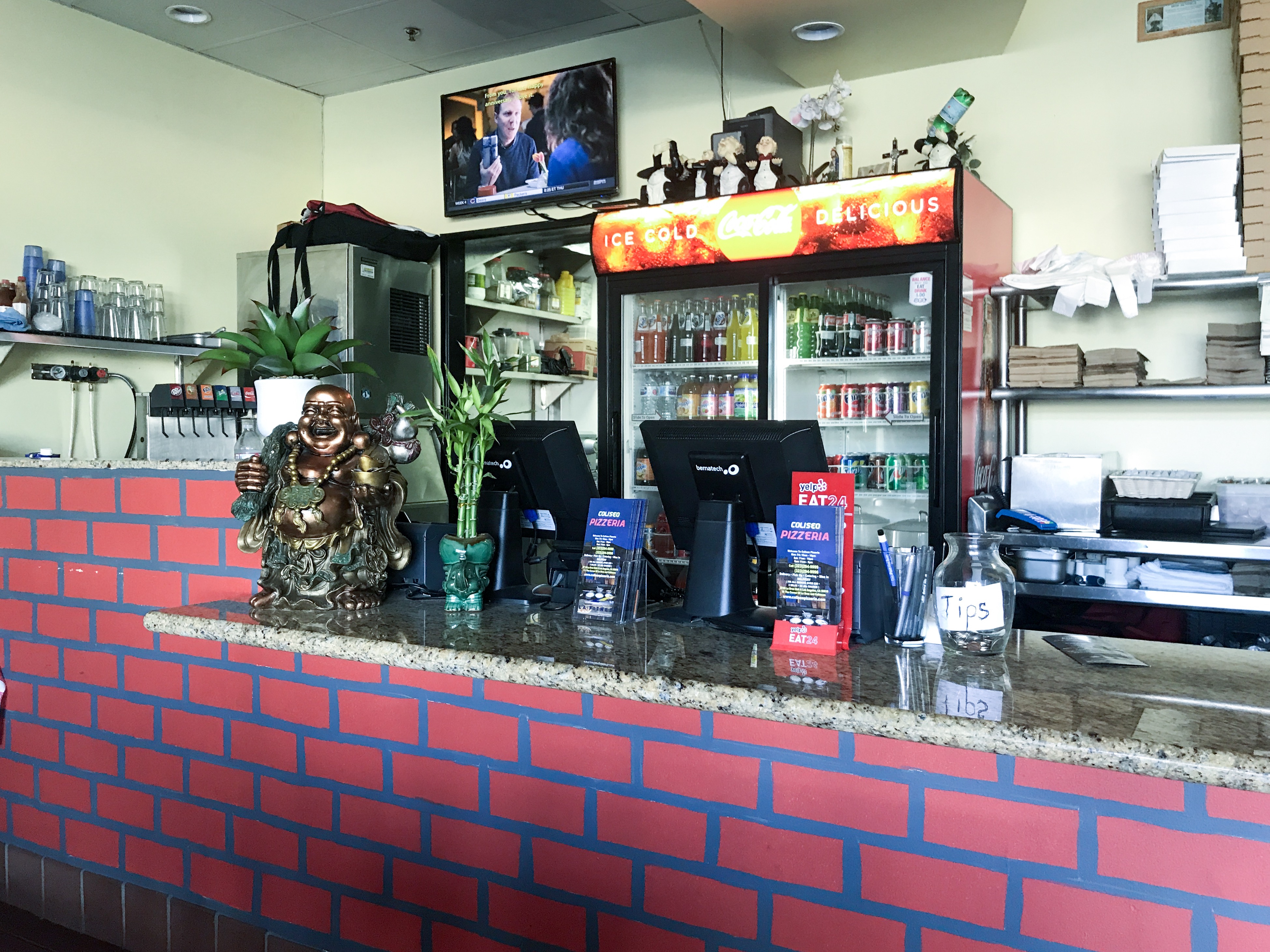 Coliseo Pizzeria interior
Santiago learned the secrets of authentic Italian cuisine 10 years ago after getting a job at Trattoria Amici, a fine-dining restaurant located in The Americana at Brand. Amici emphasizes amazing flavor and fresh ingredients. These pillars of authentic Italian cuisine and fine dining were instilled in Santiago over the years, and they are values he has carried with him across town to Baldwin Hills.
"I learned to cook Italian food because I have been working with Italian people for over ten years," said Santiago. "I learned what makes really good Italian food. Here we make real New-York-style pizza. You know, very thin, chewy in the middle."
Now as the owner of his own restaurant, Santiago acts as a jack-of-all trades: he cooks, he cleans, he waits tables, he even works the cash register. He is there from early in the morning prepping until 10 pm. when they close.
Coliseo Pizzeria follows a completely separate code of beliefs than those observed by the surrounding restaurants. A few doors down sit familiar chains like Subway and McDonalds; establishments that emphasize low prices and fast service above all else.
In contrast, Coliseo Pizzeria prides itself on only using the freshest ingredients. Every single item is made to order. Santiago believes that quality ingredients are the key to good food, which translates into happy customers who keep coming back again and again.
"Most of our customers live around here, but we get a lot of business from Culver City because it is so close. They have heard about us. We are centrally located, so it's easy for a lot of people," said Santiago.
Places like Coliseo Pizzeria are part of what makes Los Angeles stand out as a cultural melting pot. They showcase the merging of cultures, of people, of dreams. And maybe there is nothing more American than buying an authentic New-York-Style pizza in Baldwin Hills, made by a man born in Mexico who 20 years ago didn't know a thing about Italian cuisine.
Rodolpho Santiago's margarita pizza. Video link here