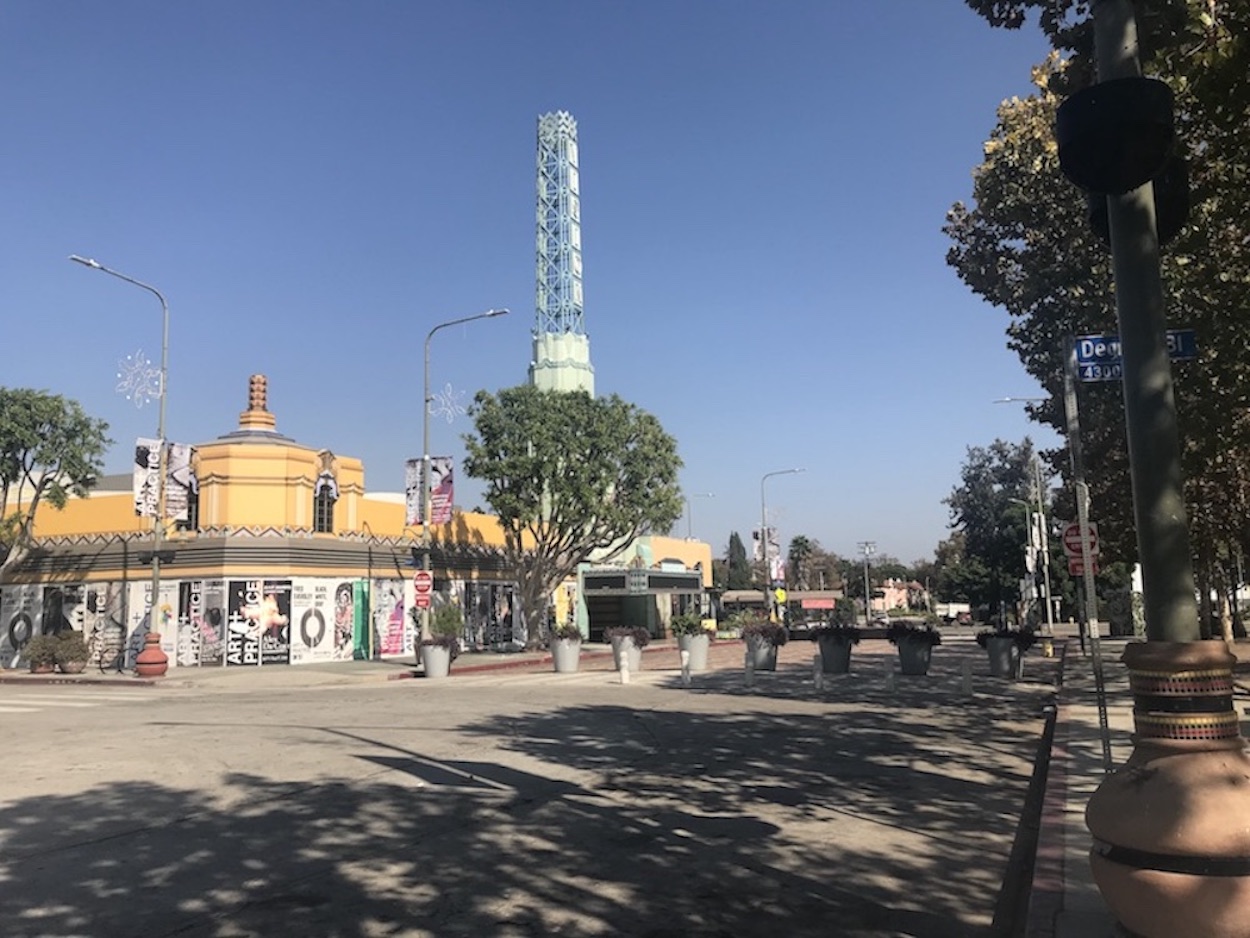 In this year's Introduction to Online Media course at USC, students learn the basics for the web story telling as well as any other useful online tool one could think of.
In its last semester, JOUR 309 had its final two sections taught by Robert Hernandez and Stacy Leasca. As part of the course, students are required to travel into their assigned community in order to find stories to cover their semester long beats.
"Introduction to Online Media has taught me to look at stories through different lenses," said Fernando Stepensky, a student in professor Hernandez's class. "It [JOUR 309] has also pushed me outside my comfort zone when it comes to finding and reporting stories, teaching me some great journalistic practices."
This semester, the two classes traveled to Leimert Park and Baldwin Hills.
"It is definitely good to get out in the neighborhood and interview people." Said Aaron Glazer, a student in Leasca's class. "Like any other neighborhood, there are logistical concerns, and as well you have to dig deep to find good stories but I find it important."
The students visited their assigned neighborhoods quite often in order to establish relationships and connections with the local community. After all of the research was acquired, students learned the ways of storytelling for the internet in the forms of web elements such as audio slideshow, text pieces, infographics, Prezi, Thing Links, and timelines.
"This class exposed me to online storytelling tools that I've never interacted with before," said Kim Rogers, a student in Hernandez's class. Even though I definitely haven't mastered coding, I feel like I've gained a basic understanding of HTML that will help me customize my web content. After working with simple code and FTP, I feel less intimidated by multimedia storytelling."
With every beat, students went to different parts of the neighborhood to explore and tell those particular stories. Students also used this more as an opportunity to learn about the surrounding communities in Los Angeles. Because of these assignments. Students also left their neighborhoods with a heightened curiosity for other surrounding neighborhoods around USC.
"The class has allowed me to make connections with very inspirational artists in Leimert Park Village," said Sooji Nam, a student in Hernandez's class.
In what is now most of the student's third or last year of studying journalism, they became familiar with going out into parts of Los Angeles and interacting with the community. The main goal of this was to find stories that weren't already being told.
"I covered local businesses that were hoping to tackle urban food deserts, like Crenshaw, and I learned a ton." Said Maddie Ottilie, a student in Leasca's class. "I like the focus of a single community because you get to build up your contacts and sources."
Diversifying reporting and storytelling is something students in this class were seeking to do. Sometimes the students found it difficult to tell both sides of a story with limited resources presented to them.
"It is certainly a wonderful thing that Leimert Park is such a diverse and vibrant community," said Angel Viscarra, a student in Hernandez's class. However, this forced the students in our class to especially focus in on being diverse in our reporting. With almost any issue or story in this community, there are two sides to every coin. There has been multiple perspectives on basically every story we have worked on this semester."
Many of the students would agree that journalism is a field where most of the learning happens outside of the classroom. Traveling to the neighborhood taught students how to use research in the real world, as opposed to just writing it up in a long paper.
"This class has been an interesting look into a community I would never have known about before. The reporting has gotten me closer to a very complex community, said Keith Demolder, a student in Hernandez's class. "People want their stories to be told and it truly is an honor to give these citizens their due."
Coming in from a place like USC, exposure to the surrounding area helps build a community connection some of the students ended up experiencing. However, some of the students also experienced some difficulties in their neighborhoods when it came to interaction with locals.
"It has been an overwhelming semester as I have been put way out of my comfort, which is not a bad thing, but that factor has been combined with the severe challenge to find a story," said Nick Alfano, a student in Hernandez's class. "Many active community members including local business owners, are afraid of journalists and the uncertain outcome and conclusion that may arise when they get involved. This has made getting any story or even lead and source an excruciating process."
Though the initial process seemed to be a daunting task, the students eventually learned to trust their instincts. When exposed to an environment that is different, fear might be the initial reaction. But, the students found that after returning there over the course of four months, their comfort level went up in the area.
"There have been some times where I have felt uncomfortable in a new area that was relatively unknown to me at the beginning of this semester," said Hawken Miller, a student in Hernandez's class. "people were hesitant to talk to me and they warned me I was unsafe. Once I found organizations and institutions with groups of people, I felt much more welcomed and that fear went away. It's taught me to not judge a book by its cover."
Even though the students knew many of them might not be well received in their assigned neighborhood, they understood their duty to tell the stories of the area. Students learned that there were some stereotypes about them amongst the locals, so they wanted to dispel those beliefs and showcase what it really means to be a journalist from USC's Annenberg.
"We have a reputation of kids who take advantage of the people in the neighborhood," said Daniela Silva, a student in Hernandez's class. "But with that said, when approached with sensitivity and good news judgement, you can still find gold in the untapped stories."