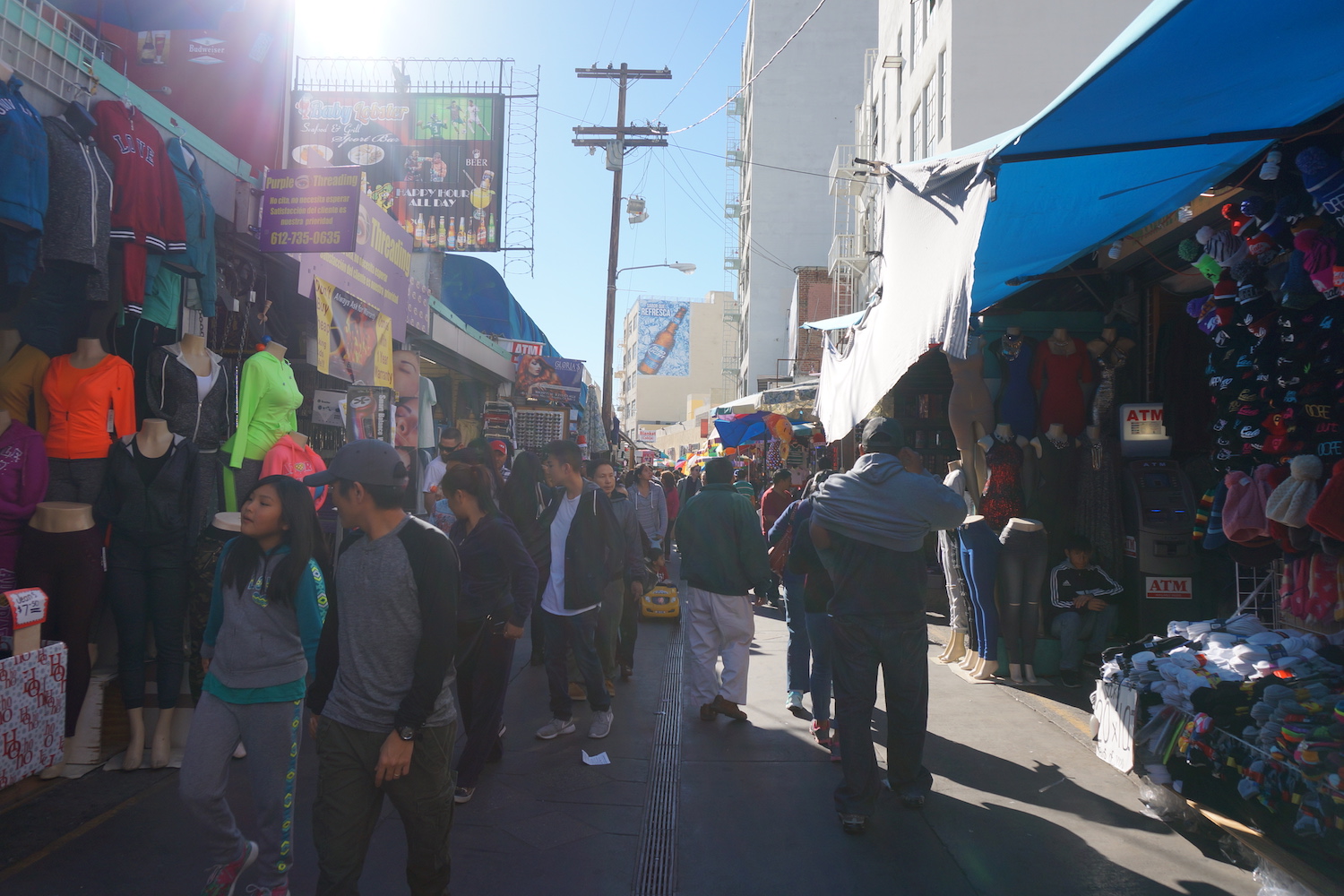 Although under one district, retail and wholesale are at a divide
What it's like for those on both ends.
It's easy to get lost within the borders of 16th Street, Eighth Street, Santee Street, and Central Avenue. Once inside the Los Angeles Fashion District, one is fully immersed in textiles, menswear, womenswear, flowers, piñatas, and so much more. Covering about 500 acres or more, the Los Angeles District has made a name for itself. People from around the world to neighboring cities come out to buy clothes among other things.
With so much to cover and so many areas of concentration, it can be easy to see things as one big place. But things can be much more separated. When it comes to clothing there are two different aspects of it: retail and wholesale. Wholesale means retailers can come to the area, usually with a retail permit, and buy in large quantities for their stores. In the retail business, there is no minimum or maximum of items a customer can purchase, and no permit is needed.
With wholesale making up 80 percent of the Fashion District—retail can seem like a small business. Most retail businesses are located in the Fashion District's infamous Santee Alley and surrounding areas. Although there is no exact data on the how the two compare, many who work within both areas can instantly tell the difference.
With over 150 stores, Santee Alley can seem like a big place—at least to some people.
Luis Hernandez, a worker for a fruit vendor, said it's the place to be at. "These are the famous Callejones. There's more sales and commerce going on here." In Spanish, Santee Alley is usually referred to as Los Callejones. Hernandez was attracted to this part of the Fashion District because he knows people come here, which to him means business. Although he just started working in the area three months ago, he said the wholesale business doesn't catch word here. "I've heard about the wholesale side and all that stuff. But I don't see it grab attention the way some of the stuff here does." And he isn't the only one who sees things like this.
Jesus Pocasangre, a paletero or ice cream man, has been posted near Santee Alley for ten years now. He's aware the two types of businesses bring different crowds, but in the end Los Callejones brings larger crowds. "There's so many stores here, and so many of them sell so much. Wholesale is a different, but this is [Santee Alley], it's the way to go." He mentioned he also enjoys this area more because of the culture. Most wholesale owners are Asian, according to the Korean American Apparel Manufactures Association. "The culture here is dominated by Latino, and as one I like that idea."