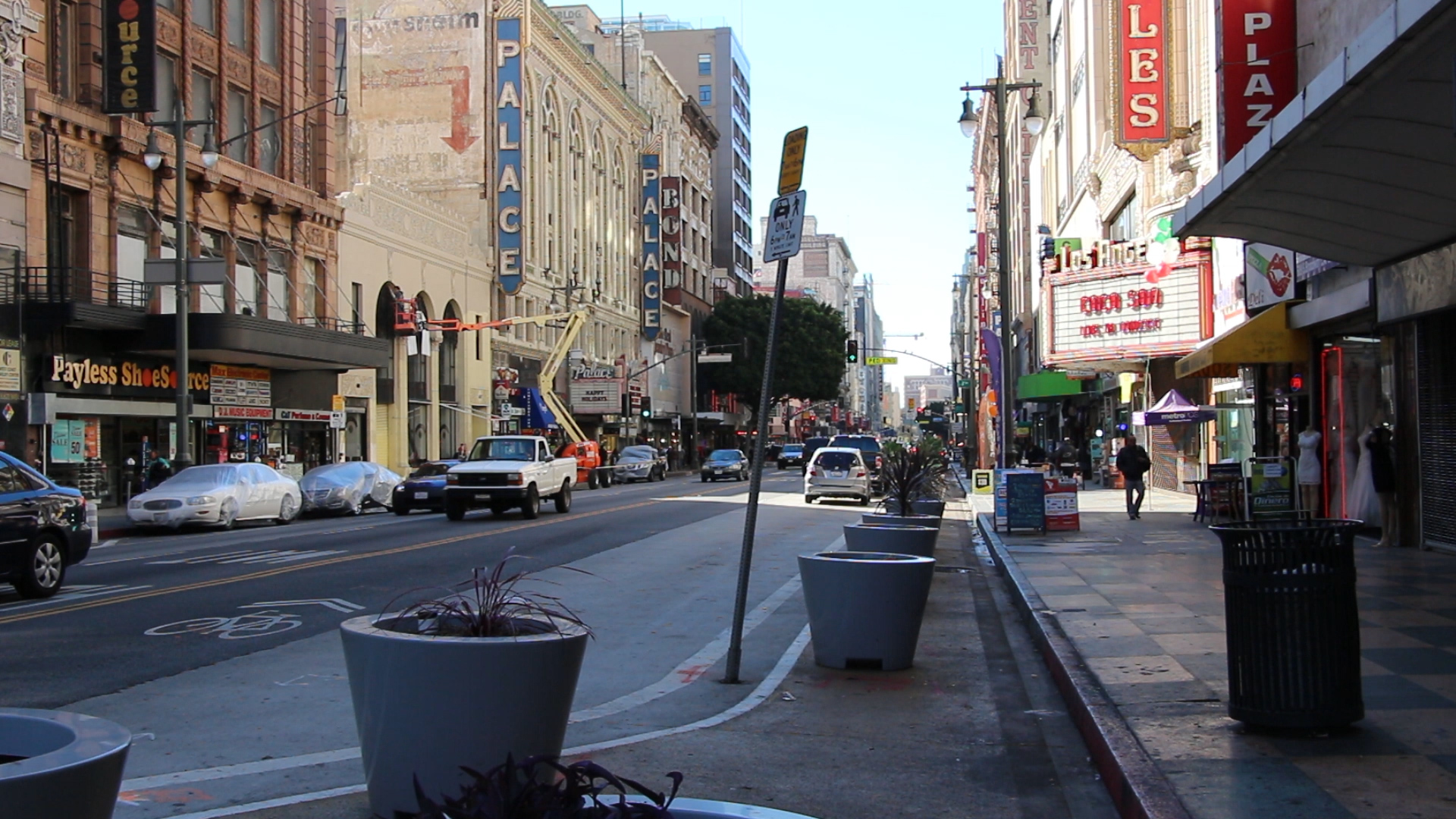 City leaders: Broadway to change for the better
Organizers of Bringing Back Broadway say gentrification is nonexistent on Broadway.
In downtown Los Angeles, Broadway is getting a facelift. Up and down the street, buildings are under construction, big-name stores are moving in and new restaurants are popping up left and right.
All this change is thanks to the Bringing Back Broadway initiative. The project was started by city councilman José Huizar back in 2008. It aims to restore Broadway through a number of additions and improvements, including re-opening old theaters and bringing back a streetcar for public transportation.
"Broadway is one of the most important streets in our city," said Bringing Back Broadway executive director Jessica McLean. "It has an amazing history and we think an amazing future."
The project will also bring a series of renovations to older buildings on Broadway and will aim to cut down traffic congestion along the street. Huizar's Bringing Back Broadway initiative also includes plans for newer, flashier business signs and beautified street lights.
Many Los Angeles residents are excited about what these new renovations mean for the future of their city.
"If downtown can be this really functional fantastic place, I think it's a model for the rest of the city," said Luke Kanter, a sales associate for Press Brothers Juicery, which is located on Broadway at the entrance of the Grand Central Market. "They're trying to make [Broadway] a really vital part of downtown, which is really exciting."
Aside from the aesthetic benefits the restoration project will bring to Los Angeles, the city has an economic interest in revitalizing the historic Broadway corridor, according to McLean. She said because several buildings on the street are so run-down, many ground-floor spaces on Broadway were vacant prior to the start of the project.
Now, that's beginning to change. Since the start of Bringing Back Broadway, several new businesses have occupied the once empty spaces along the street, including popular stores and restaurants like Gap, Burlington and eggslut.
Press Brothers Juicery, which just moved into their space on Broadway about one year ago, is part of this new influx as well. The local pressed juice stand sells 100 percent certified organic whole press juice, which Kanter said fits in perfectly with the new types of businesses popping up in the area.
"We've noticed definitely an uptake in more upscale businesses," said Kanter. "They're taking out kind of the old standby market businesses that have been here for like 30 or 40 years and replacing them. It's all becoming a little more artisanal."
But many of those older businesses do not share the same excitement.
Tacos Acapulco is a family-owned business that has been selling home-style Mexican food on Broadway for more than 15 years. Now, their spot is being threatened as rent prices are higher than ever before.
"All of the buildings, people keep on moving out because they say that the price is going higher and they're trying to move out from downtown LA," said Crystal Aparicio, an employee at Tacos Acapulco. "Hopefully we make it, because it's kind of hard, but hopefully we make it."
But according to McClean, outright gentrification is not the aim of Bringing Back Broadway. She said the focus is not on driving people out, but rather to bring businesses in to fill available space.
"You can't gentrify something that's vacant," said McLean. "No one is being pushed out of Broadway. We're doing everything we can to take use of the vacant spaces and make use of the vacant space that's been there for years."
Another concern some long-time residents share is the preservation of historic Los Angeles culture amidst the changing downtown.
Aparicio, who grew up in Los Angeles, said Broadway has always been filled with a vibrant Hispanic heritage. She's worried that more mainstream businesses and Americanized restaurants will take away from the culture she grew up with.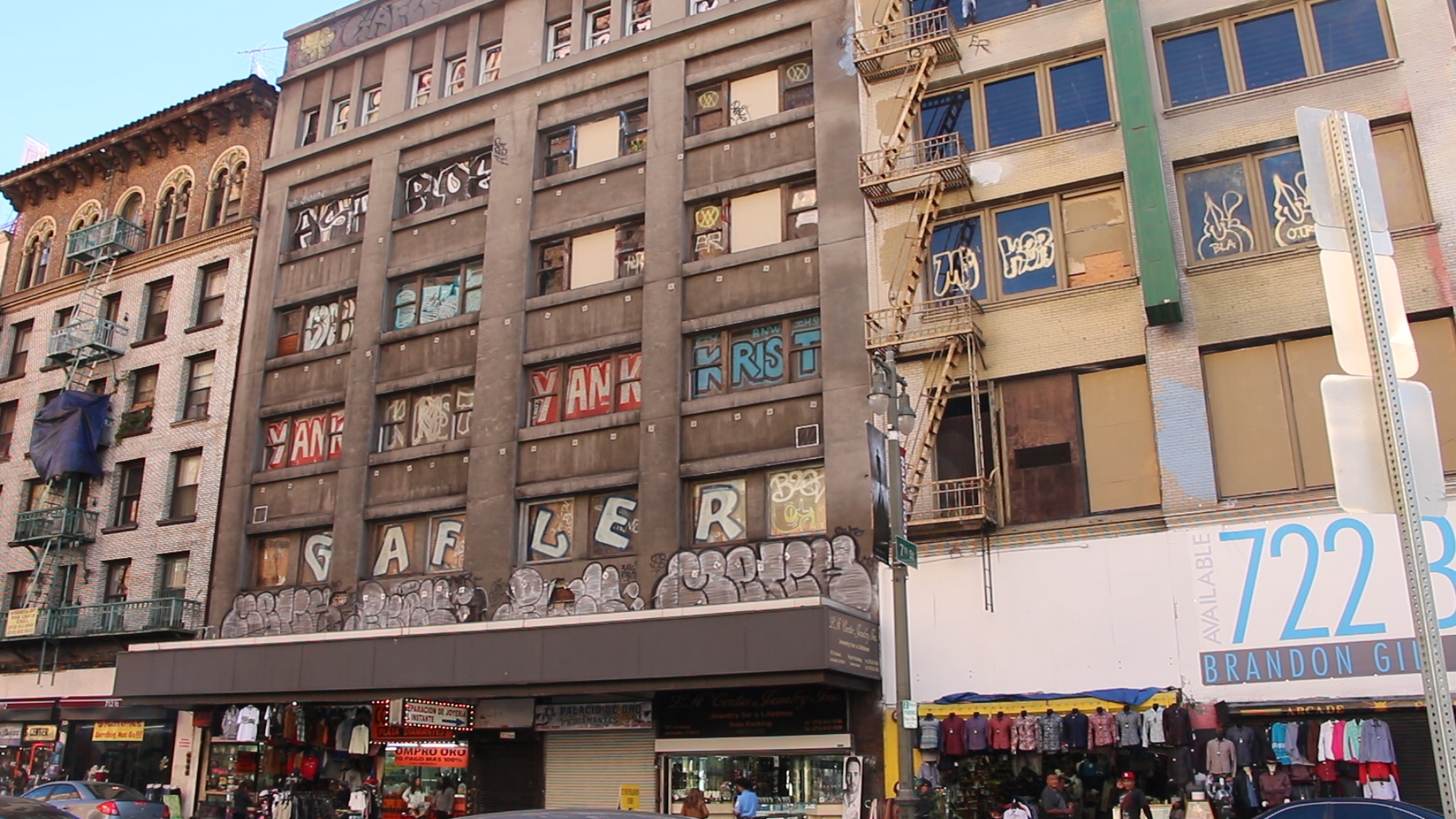 One goal of Bringing Back Broadway is to revitalize old, vacant buildings like the one pictured above.
"Right now it's a lot of Hispanic things, and if they bring back Broadway like it used to be, then it's going to be a lot more American," said Aparicio. "They're changing a lot of things and it's not the same."
McLean said the reality is quite the opposite because the initiative aims to make Broadway even more culturally-centric to all of Los Angeles. Bringing Back Broadway, she said, embraces the unique and rich history embedded throughout Broadway while also paving the steps for a bright and successful future.
"It's about moving to the future while preserving as much of the past as you can," said McLean. "We're really finding the balance."
Already, businesses on Broadway are seeing a greater influx of visitors and customers. Kanter says Press Brothers Juicery has seen a dramatic rise in customers since they first set up shop, which he believes is the result of the revitalization of Broadway.
"So many people are coming downtown," said Kanter. "It really is making downtown a much more vital part of the fabric of the city and sort of changing the ideas that people have about LA. I think [Bringing Back Broadway] is the center of that change, so i think it's worth celebrating."
Check out the changes Bringing Back Broadway has planned for the historic street. Video link here