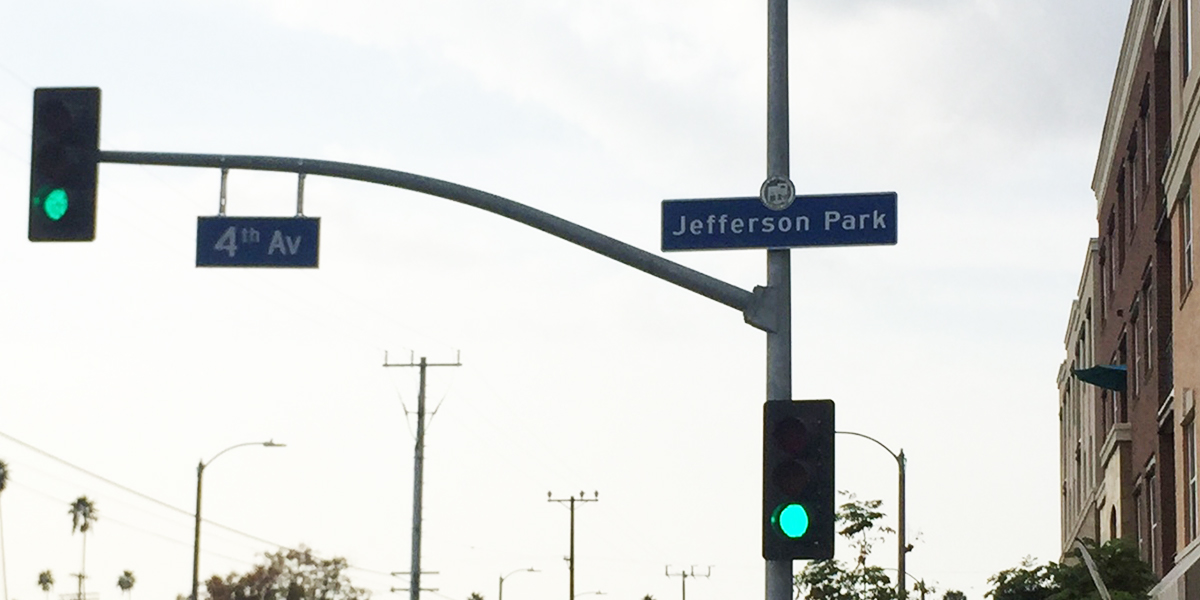 Change does not always have to be a bad thing.
Strong bonds within the community help embrace diversity.
Art galleries. Grocery stores like Whole Foods. High-end coffee shops. Overpriced studio apartments. Out with the old and in with the new!
Hardly does gentrification ever tell the tale of a community whose residents seek to improve their neighborhoods for the long haul, while retaining the rich culture and diversity that makes it what it is.
Jefferson Park, a neighborhood in South Los Angeles, has been considered one of the gentrifying, underrated, up and coming hot-spot for flippers, developers and buyers alike for the past few years.
However, these are not the only people attempting to create change. Some of those who live in the area have already actively been working on creating a safer environment for the future of Jefferson Park.
While Sandra Pruitt, the chair of the recreation and parks committee of the United Neighborhoods Neighborhood Council, understands and empathizes with the struggles caused by increasing prices in the community, she has been on a mission to improve the place she has called home for the past eight years.
Pruitt felt impassioned to unite the neighborhood by creating a ripple effect of positive change after her son was murdered in a drive-by in 2009 from unfortunately being in the wrong place at the wrong time.
"I had to side the way to keep myself from falling apart and become more involved in my community," Pruitt said. "I was a preschool teacher at the time with two younger children, too. I would take the kids to Leslie N. Shaw Park so we could get out of the house and I felt we needed a better one in our area and I needed that to help me with the pain I was going through actually."
Her endeavors paved the way for the park's major renovation. What used to be the only small green patch within the structure filled community in the second largest Historic Preservation Overlay Zone in Los Angeles transformed into a place that everyone in Jefferson Park could enjoy.
The grand re-opening in February 2016 revealed a place with exercise equipment, a universally accessible playground area and remodeled benches for a safe, family friendly environment.
The park's improvements exemplify how changes in the area are not only subject to the consequences the word gentrification always seems to imply.
"We appreciate and are aware that it's an up and coming neighborhood so we want to let people know that those who were here have struggled for a long time to get some things done," Pruitt said. "The park is a beautiful thing and so is the revitalization of Jefferson Boulevard. People are spending so much money to live in the area. Why wouldn't we want to have a great park and wonderful schools and a nice library, you know?"
As part of the UNNC, Pruitt hopes to keep chipping away at the us versus them mentality many residents may have developed because of the unfavorable reality of expenses and rapid change.
Pruitt is not the only one in Jefferson Park with this forward-looking attitude. She says most people want to conserve the diversity of the neighborhood by living multiculturally and advancing the bonds within it for a better future.
"A lot of families are individuals moving into the area who lived in the West side who were in apartments. They're so happy to be in a home to watch their families grow and to be in a community that they can really be a part of. Everyone's trying to really work together."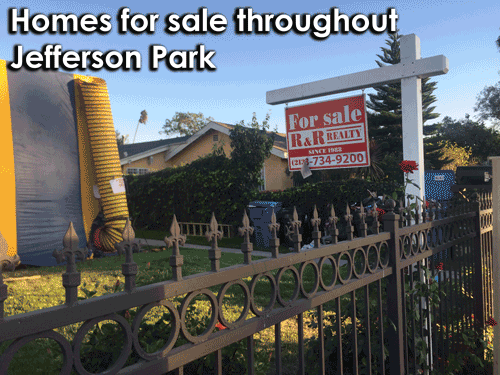 Jennifer and Jim Nice are a couple in the neighborhood who might be seen as gentrifiers, but love Jefferson Park for its cultural history and its residents' involvement to actively initiate a positive impact.
"It's a big group of families from all walks of life. There's hispanic families and white families and black families and mixed families and it's an exciting view of the world," said Jennifer.
Eleven years ago, they were on every waitlist for lofts in downtown Los Angeles. The idea of being in the city was enticing, but the lack of a backyard was disheartening because they were dabbling with the possibility of pets and perhaps one day, children.
Jefferson Park caught their eye because it was a affordable and it was a nice change to what they were used to.
"I lived in apartments in Los Angeles until I bought this house. I didn't have the neighborhood experience living in apartments all the time and people didn't spend too much time getting to know each other," said Jim. "You parked your car, went into your apartment, you said hello maybe if you saw someone, but you didn't really know anybody and maybe it's just a function of living in a house, but there's a lot of community here."
In the time that they have lived in the South L.A. neighborhood, they have seen change. While they say they have not seen too much turnover in relation to their neighbors moving in and out, they agree that it has been for the better.
"People are much more active in trying to be neighborly," said Jim.
Now that the married couple has a 5-year-old daughter, they cannot picture themselves living anywhere else.
"It's one of the most diverse neighborhoods in the city. We want that school experience in L.A. to match our daughter's life experience in the community," Jennifer said. "We like the diversity of the neighborhood and we don't want that to change."