Los Angeles is not known for having a homogeneous population – certain regions within the entire city can have demographic compositions distinctly different from that of their neighbors.
This stark contrast often makes switching communities feel like immigrating to another country, but those who move into Jefferson Park quickly feel at home.
"It's urban. It's really diverse – the kind of diversity that I like that is genuinely diverse," said Susan Park, owner of Revolutionario, as she gestured towards the hundreds of messages adorning the restaurant's interior. "The whole world comes here and you can see it on the walls."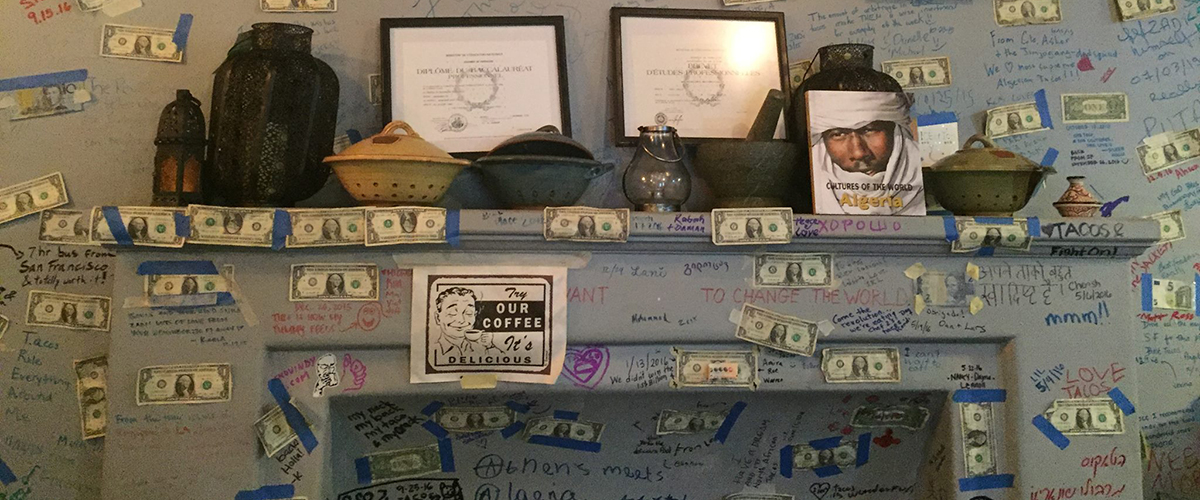 Revolutionario's walls contain hundreds of these messages.
Visitors from a wide range of countries including Honduras, China and Kuwait have left currency and short inscriptions throughout the establishment. Revolutionario serves North African tacos with many cultural influences and the typical clientele varies from day-to-day, as a wide mix of ethnicities comprise its surrounding neighborhoods.
"Sometimes it's predominantly African-American; another turnaround it looks like it's a place for white hipsters; one Sunday we had a large Korean-American church group come," Park said. "Jefferson [Park]… is much more like that than any other neighborhood in LA."
To attract such a diverse clientele, a recent trend throughout Los Angeles has been the growth of restaurants that utilize fusion-style cooking, which is incorporating two or more cultural influences.
Monarca Grill is just one of such locations in Adams-Normandie, a community whose population is 62.2 percent Hispanic according to Mapping L.A., a 2009 project by the Los Angeles Times. Even though owner Victor Manzo is a Mexican immigrant and he works in an area with a strong Latino presence, he serves food prepared with both Mexican and Italian elements.
"The cultural influence is more Mexican, but I want to learn more Italian styles and recipes," Manzo said. "It's difficult to learn all the recipes from Italy and prepare it in a more professional way."
Source: Mapping L.A.
Both Jefferson Park and Adams-Normandie are situated at the intersection of different ethnic populations. The southwestern area of Los Angeles has a predominantly African-American population, whereas east of Jefferson Park it is majority Latino. In comparison, the closest communities with a mostly white population are Mid-Wilshire and Carthay.
There are very few restaurants in South LA run by white residents, but that isn't a cause of concern for Jeromy Willett, co-owner alongside his brother of Dan's Burgers & Teriyaki.
"A lot of people come through and they say: 'you guys know where you're at, right?… cause you [are] some crazy white boys,'" Willett said. "I know they say you don't see color – of course you see color – but I look at everybody as human beings."
Willett attributes this open perspective to his experience growing up in Long Beach, Calif. with both ethnically diverse friends and family.
"I'm not full white, so when somebody comes in here and says that I'm white I start laughing because my grandfather is actually full Native-American," Willett said. "I grew up with Koreans, African-Americans, Hispanics… they're my best friends, so for me it's not a big deal."
Park also credits her inclusive attitude to her own past experiences. She immigrated to Los Angeles when she was five years old and spent her entire life working throughout the city. Park and her husband, a classically trained French chef with an Algerian heritage, moved into Jefferson Park shortly after starting Revolutionario. In a way, the restaurant is a reflection of their diverse identities.
"We thought 'why don't we just do something that is a mash-up of who we are?'" Park said. "Your self-identity and how other people see you, those don't always match… identity is very malleable."
This attitude doesn't always result in positive experiences as although Willett treats everyone equally, he hasn't always received the same level of respect. Even though he grew up in multiple rough neighborhoods and was the victim of both stabbings and shootings, he hadn't suffered racial discrimination until he started Dan's Burgers & Teriyaki.
Jeromy Willett and Susan Park discuss the ways in which they have created a welcoming environment for all customers.
"The landlord… said 'you're rich white boys, I'm going to charge you more money,' which is not necessarily true, we came in here with pretty much nothing… we came from nothing," Willett said. "Not everybody is going to take too kindly to it, but for the most part everyone seems to… once they come in here and they talk to us, they seem to like us quite a bit."
It has been a struggle for both Willett and his brother, as they took over from a previous owner who had damaged the reputation of the restaurant through poor, hostile service and low quality food. Since purchasing the establishment roughly one year ago, they have spent nearly everyday fixing up the location and improving customer relations.
Willett has noticed some changes throughout the community as a whole during his short time in Jefferson Park, such as reduced violence and an improved quality of life. Even though Dan's Burgers & Teriyaki has recently struggled with generating revenue, Willett believes that maintaining a positive outlook everyday will lead towards him feeling more at home within the community.
"You start talking to me and I talk for hours, and they all know that, so I think that's why people leave here with a smile on their face," Willett said. "I just like to treat everybody like they are my friend, that's just the way I look at things."
Park believes that her effort to recreate the same attitude in Revolutionario has resulted in a close-knit community, which she can always count on for support as shown in their customers' response following the 2016 President Election.
"We have several regulars who… look[ed] at my husband, whose family is Muslim… and they [said]: 'Farid, you are going to be okay,' and then they just wanted a hug, so they hugged," Park said. "Acceptance. This is your safe place, for everybody."