The Culture of Kosher
There's more to kosher restaurants than keeping cheeseburgers off the menu; it not only allows for religious Jews to maintain their connection with their faith, but also allows more secular Jews to maintain their identity.
When lunch hour arrives in the Los Angeles Fashion District, people have different options. They might, for instance, indulge in a bacon hotdog in Santee Alley. Or, If patrons are interested in a classic, Bernie's Sandwiches on 9th Street might be a way to go. And for the culinary unadventurous, the Fashion District has a McDonald's within walking distance of Santee Alley.
But for some Fashion District customers-and even a few entrepreneurs-lunch options can be a little more limited, specifically for those who follow the Jewish dietary laws of Kashrut. These laws, in turn, determine which food is Kosher, or are proper to eat.
Which is why, when lunchtime rolls around, co-owner Mahiar Zarbian and the rest of the staff at Cohen Restaurant are busy taking orders for kosher Persian food both over the phone and in the restaurant itself with little break. Despite the rush for foods like falafel, chicken kabobs and crispy rice with herb stew, Zarbian enjoys his work.
"My favorite thing about this restaurant is the people you see every day," Zarbian says, "They become like family."
In this case, a family that's part of the overall Jewish community in Los Angeles. Over the years, the L.A. Jews have moved west from early-20th century concentrations in downtown and Boyle Heights to areas like Beverly Hills, Fairfax and Pico-Robertson. These areas not only include Jews who descend from Eastern European immigrants, but also Jews from the Middle East who started coming to the United States in the late 1970s.
Community is important enough for Holy Grill owner and manager Adiel Nahmias to the point where he decides against living near his business, which would be more practical.
"If you ask me I'd rather to be in a place where I know there is a synagogue next to me, there are kosher supermarkets close to me," says Nahmias, who took over ownership of the business two-and-a-half years ago..
Despite the change in neighborhoods, there are still Jews who work downtown who enjoy ordering food that is familiar to them. In the Fashion District, this might mean Persian and other Middle Eastern food, since many Iranian Jews own businesses in the area, according to Caroline Luce, curator of Mapping Jewish Los Angeles, a multi-media archive project of the UCLA Alan D. Leve Center for Jewish Studies
Despite sentiments of community and familiarity, the kosher restaurant industry itself is difficult to make a living off of, according to Rob Eshran, editor-in-chief of Jewish Journal. An issue is the fact that kosher ingredients can often be twice as expensive as non-kosher ingredients. Another is that restaurants are not able to profit from Saturday crowds because of the Sabbath. And with the growing number of secular Jews, many don't eat kosher food.
Still, kosher restaurants feel pressured to be "officially kosher," by receiving certification from a kosher agency after meeting its standards in terms of preparation of the food and the brands of ingredients used. But even after receiving certification, Zarbian says that officials from the agency would continue to inspect the way his restaurant prepares food and may even adjust a few rules as the years go on.
"You have to educate yourself...products available in the market that have kosher certification might not have kosher certification next year...you have to know about [that]."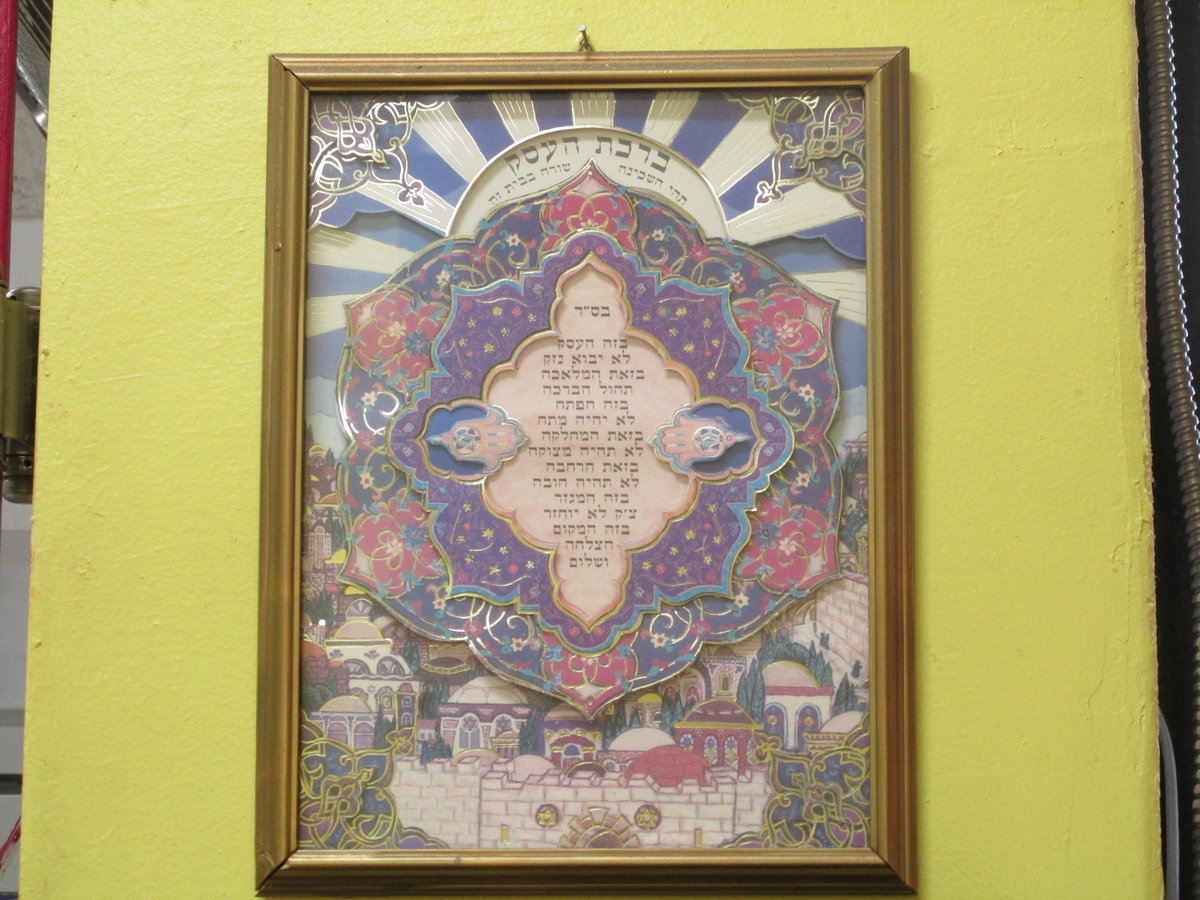 According to Zarbian, it's important for kosher restauranteurs to have a strong religious background. (Heidi Carreon/OfftheFreeway)
Eshen doubts there is "a whole bunch of difference" in the standards between kosher certification agencies. Luce, however, notes that there seems to be more of a demand for a high standard of kosher called glatt kosher. Eshenagrees.
"In my parent's generation, if it was just a kosher butcher it was good enough but now everyone wants glatt kosher."
Even with kosher certifications, it seems that being certified mostly matters to Orthodox Jews, who are a minority within today's mostly-secular Jewish American community. Nahimas, who considers himself an Orthodox Jew, says that 90 percent of his customers won't look for his certificate.
"But a few times a month, someone will come in and ask to see my certification," Nahmias says. If the person doesn't recognize the rabbi or the agency who granted the certificate, they would eat somewhere else.
But beyond the stands and hole-in-the-walls of Fashion District restaurants, Kosher food culture seems to trend towards adapting to popular, modern culinary practices such as using organic ingredients and modified, healthier recipes. There are now sushi restaurants that are kosher certified, as well as restaurants that have fusion cuisine. .
Yet Eshran says that traditional kosher food remains important to Jewish people because it is a "marker of Jewishness," which maintains a Jewish identity in a non-Jewish culture. In this regard, Jews working in the Fashion District hold on to their culture through kosher food, and will always return to the restaurants that serve it, hungry for more.