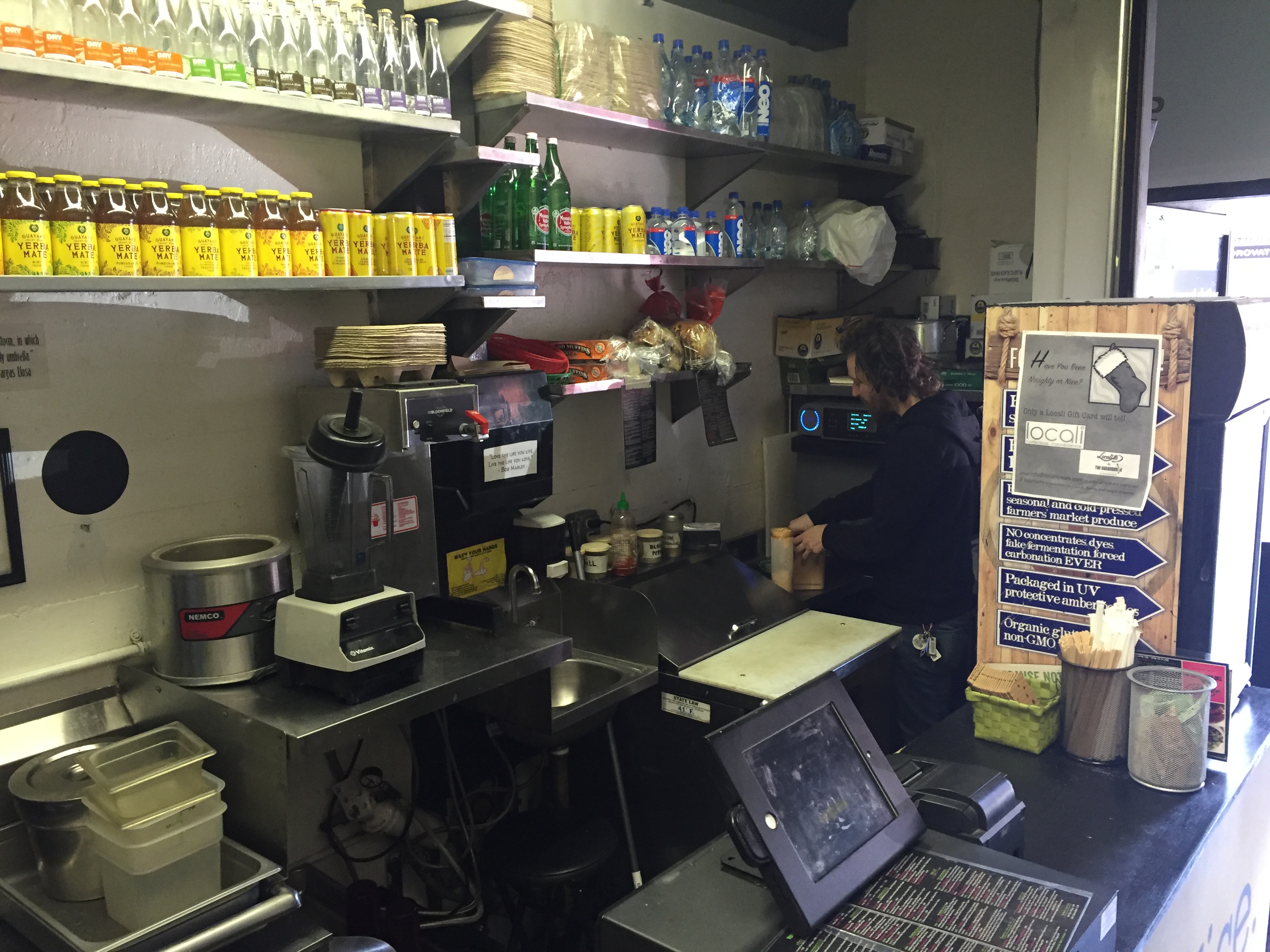 Feasting in the Fashion District
Fashion forward food on the fringe of downtown development and bargain buying.
Much of the dining options in Los Angeles' Fashion District are limited to gut busters and greasy spoons. But on the neighborhood's periphery where the influence of the downtown development boom is leaching in, a crop of hip, healthy new eateries has sprung up over the last couple of years.
Among those is Localita & The Badasserie. At 80 square feet, it's quite literally a hole-in-the-wall: two narrow bars—one with a few barstools for dining and the other as a means of sectioning off the kitchen—in the narrow lobby of the Academy Awards Clothes building. But rather than a smoky, dimly lit cocktail bar, it's a vegan café with quite the name.
The restaurant is a branch of Locali Conscious Convenience, a store with locations in Hollywood and Venice that employee Matt Blakenship calls a "love child between Whole Foods and a 7/11." A smaller version of its sister stores with operations that Blakenship compares to that of a food truck, Localita is also home to a number of self-proclaimed badass breakfast sandwiches that lend themselves to the restaurant's binomial nomenclature.
The badasses are just the tip of the iceberg. Localita also serves up organic, fair trade teas and coffees, dragon fruit and chia bowls (the more super upgrade to superfood acai bowls), sandwiches and quinoa bowls. Meat is swapped out for proteins like tofu and tempeh, and daiya serves as substitute for dairy.
Though not strictly vegan, downtown resident Eda Mendoza was excited to find somewhere that fit her palate and "sounded better than Subway" when she wandered into Localita for the first time. Mendoza noted that there were "not so many [vegan options] in the south side and this area of downtown towards the fashion district." Like the concentration of gentrification, she reported only finding vegan restaurants in central downtown and upper side.
"I know that this is probably the only all-vegan restaurant around here," said Blakenship, "so it's kind of a destination for people who just want to eat vegan food in the area." He added that Localita & the Badasserie's customer base consists largely of local vegans who find the site online and "image conscious fashion people" from the nearby California Market center—where buyers go to supply their stores—who relish the healthy options.
Pointing out that Skid Row was "right over there," Locali co-owner Melissa Rosen is aware that her role as the neighborhood go-to for vegan food has greater implications than just filling the stomachs of the area's residents and employees.
"This area is hip and upcoming and was kind of on the fringe of that when this place was first rented out and built up," she said. "We were kind of picking up on a trend and going with it," calling her initial impression of the location "beguiling."
Others have followed suit. Just three blocks from Localita is Poppy + Rose, which opened just last year. Offering "seasonally inspired classic American fare," it's a far cry from the bacon wrapped hotdog trucks and taquerias that dominate the neighborhood.
Owner Diana Lamon politely regards Poppy + Rose as advantageous to the neighborhood. "The only other option to eat around here is the Danger Dog cart down the street," said Lamon, "we wanted to offer good food that was a bit more substantial."
Interacting with customers on a daily basis, Blakenship has observed that Yelp is a major channel directing people to the shop. That's how Mendoza reported finding the restaurant herself. While the popular review site services plenty of other businesses in the same way, it's a little more meaningful with as unique of a menu as Localita has.
Mostly, it's a sign that three and a half years since it's opening, Localita still hasn't quite molded entirely into its surrounding community, something Blakenship blatantly acknowledged. "Most of the time I have to say they recoil in horror at the prices here," he says of the predominately lower income Hispanic shoppers frequenting the fashion district who venture near the neighborhood's edge and stumble upon the café.
"Some people do wander in here," he added. "I can usually tell if they have blue hair or piercings they've probably been looking for this place, but sometimes I'll get people who walk in with a confused look on their face asking if I have Coca-Cola."
But the increasingly gray area between the chic 'DTLA' rebranding and the chaos of Santee Alley and the Fashion District has resulted in an interesting hybrid of individual, according to Blakenship.
"I can't speak for the whole poorer, mostly Mexican population that's around here," he said, "but I feel like the younger generation of that sector of the population is very into veganism. It's a huge sector of the customers who come in here. They come from families where the parents might not understand or be interested in going vegan, but their kids definitely are."
As Localita & the Badasserie continues to win over customers, the increasing interest in eating faux-meat signals much more than just a change in taste.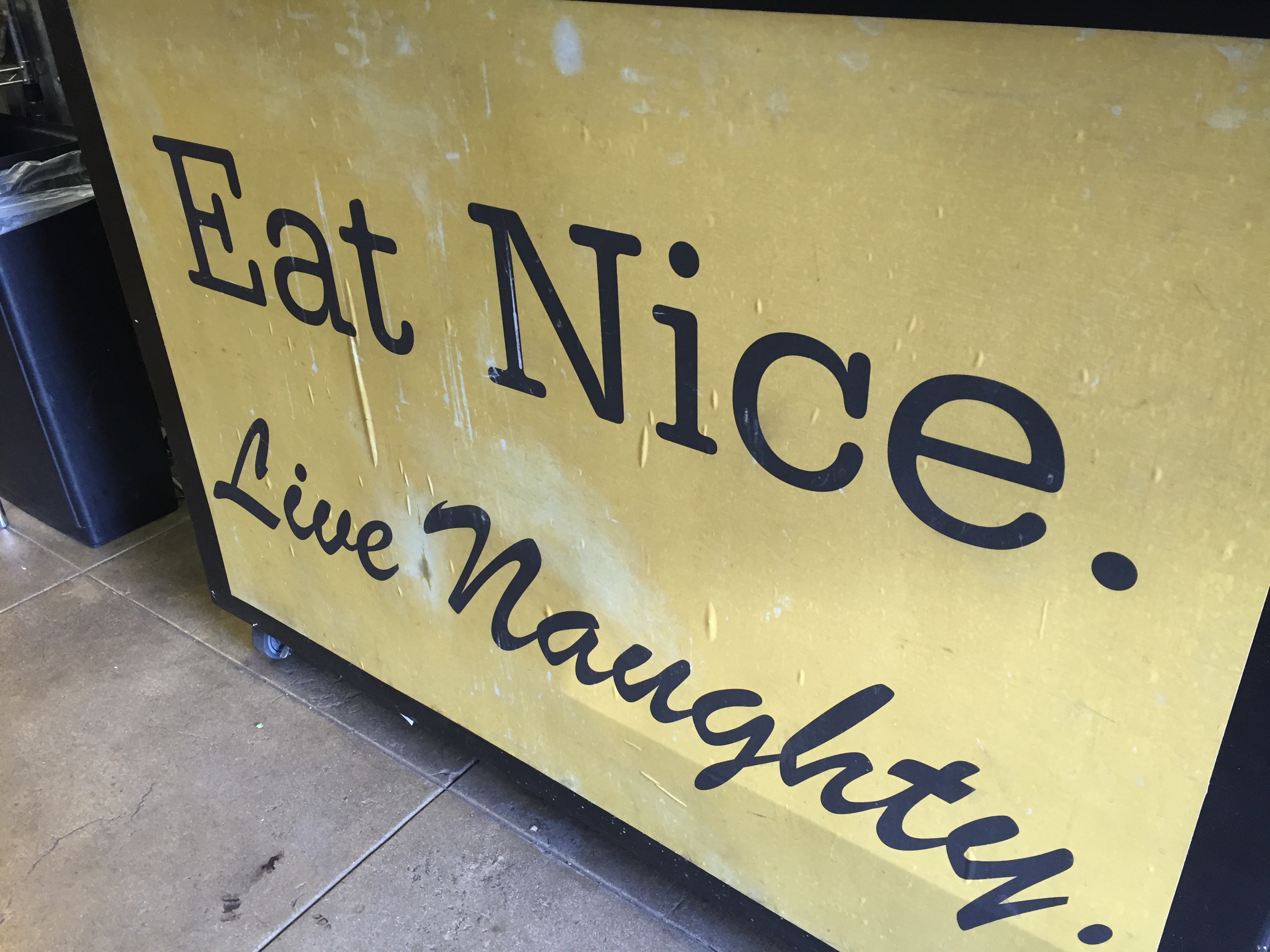 That's the mindset at Localita & The Badasserie.