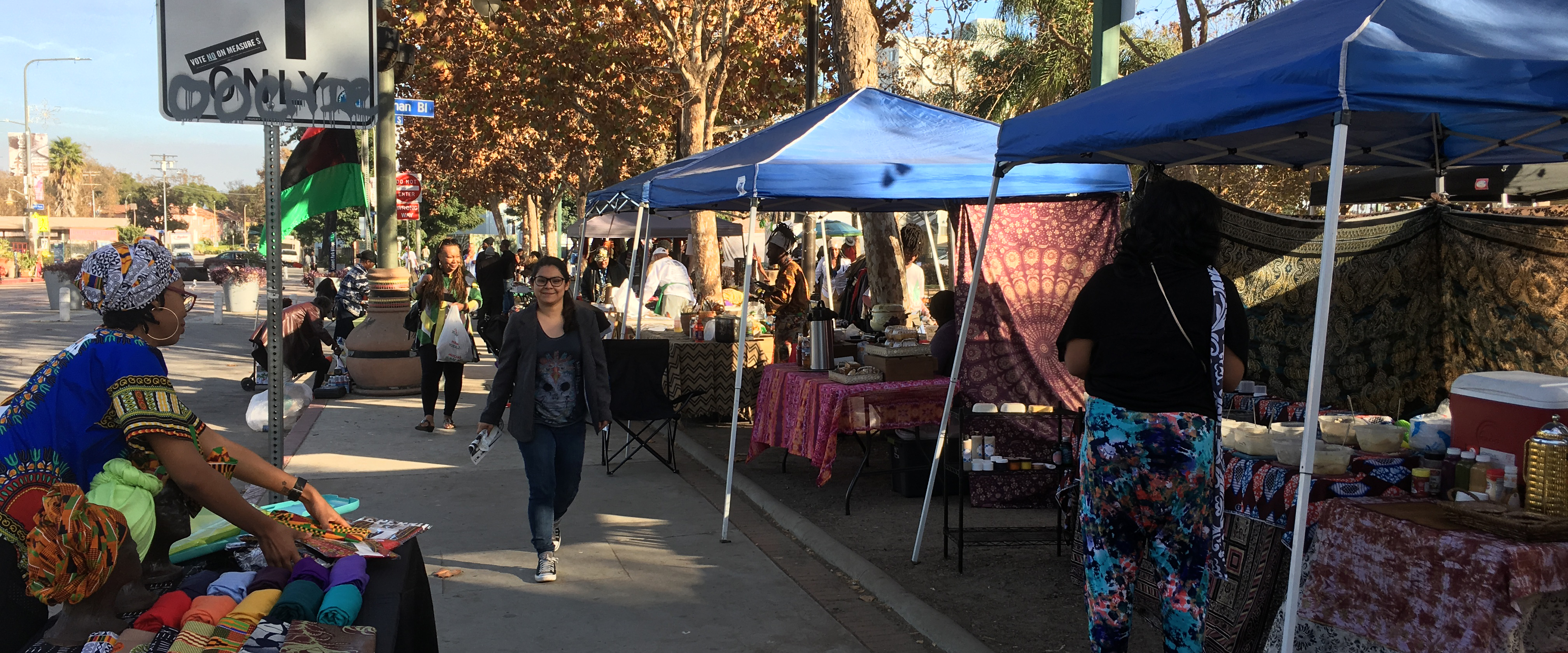 The Lasting Impact of Tom Bradley
Former Los Angeles Mayor Tom Bradley helped foster the African American community that Leimert Park is today.
The name "Tom Bradley" is inescapable for both native Los Angelinos and those visiting the City of Angels. Bradley, the former mayor of Los Angeles, has his namesake accompanying a number of structures once under his jurisdiction. The Tom Bradley Youth and Family Center is located in Mid-City and of course the Tom Bradley International Terminal in Los Angeles International Airport is the most notable edifice erected in his name. Yet, the greatest of his impacts may live in the hearts and minds of residents in Leimert Park, Bradley's former neighborhood.
Leimert Park, located in South Los Angeles, sits just three miles down Martin Luther King Boulevard from the Los Angeles Memorial Coliseum. Often called "Leimert" by residents of the neighborhood, its boundaries are Exposition Boulevard to the north, West Vernon to the south, South Western to the east and Crenshaw to the west. Leimert has one of the strongest and most prevalent black communities in the United States, as tourists travel from all over to take part in the traditional African-American culture that residents and business owners in the area will challenge you to find anywhere else. This bastion of African-American culture is due in large part to Tom Bradley.
"I think Leimert has a very affluent community, and that's a product of the fact that he lived in this area of L.A," said James Burks, a member of L.A's Department of Cultural Affairs who keeps his office on the second floor of the Vision Theater in Leimert Park.
While Bradley's move to Leimert was crucial in developing the neighborhood into a predominantly black one, he needed help getting there at first.
"The thing that was unique with him, is he kind of helped break the restrictive covenant," said Ben Caldwell, creator of the KAOS Network. "He was an ex-police officer and then they did not want him in this neighborhood, but he was able to get a white person to help him."
Owner of Summer Solstice Mobile Boutique, Pena talks about the effects that developement of the parking lot behind the Vision Theater would have on the way of life for Leimert Park and its citizens.
Leases in Leimert Park held racially restrictive covenants in the 1950s. Certain races were kept from buying property in the area, but Bradley was able to get around the clause with a white intermediary.
As a Leimert resident, Bradley became the first African-American to be elected to the L.A city council and was elected as the first and still only African American mayor of L.A in 1973.
"What I think happens when you have those types of individuals, it makes you (as an African American) feel really pretty satisfied because you feel like you've gained things," Caldwell said.
Talk to citizens that have lived in L.A since the time of Bradley's first election, and they cite a noticeable increase in civic engagement. Burks noted that people love firsts, and jokingly included that having a black mayor elected during a period of high racial conflict in the city "didn't hurt" because it helped to quell the city's tension. Bradley's record long 20 year tenure as mayor is looked upon in a favorable light by leaders in Leimert, but both Burks and Caldwell were quick to point out areas where he did wrong to his South L.A constituents.
"Busing kids out of South L.A got bad during his term," Burks said. "Instead of building up schools in South L.A, he sent them to West L.A…When you bus the best and brightest kids, those kids that were role models in the schools are now gone."
Burks not only has a problem with the negative impact busing kids had on Leimert Park and South L.A schools, but also on the kids themselves.
"Kids would have to get on the bus in the morning between 6 and 6:30 because they were being taken out of district," Burks said. "Then they leave at 3:30 and get back home at 5. This gives the kids very little time for after school activities and they can't connect with their peers."
Similar to Burks, Caldwell feels as though there was one issue with Bradley that left a bad taste in the mouths of many in South L.A's black community.
"All the money that was suppose to go to Watts went to building the Bonaventure and a lot of other things downtown. And so it built up that neighborhood when those hotels and those environments were slated to go further south," Caldwell said. "I think it had a dramatic effect on the transitions of how black communities get dealt with."
Busing kids out of South L.A and the development of downtown instead of neighborhoods like Watts are seen as key reasons why Bradley lost the 1982 California gubernatorial race by such a slim margin, just over 50,000 votes.
"When he ran for governor, he didn't have the black community behind him, which is part of the reason he lost," Caldwell said. "That tells you a little bit about how the reflected eras of him got looked at by the black community."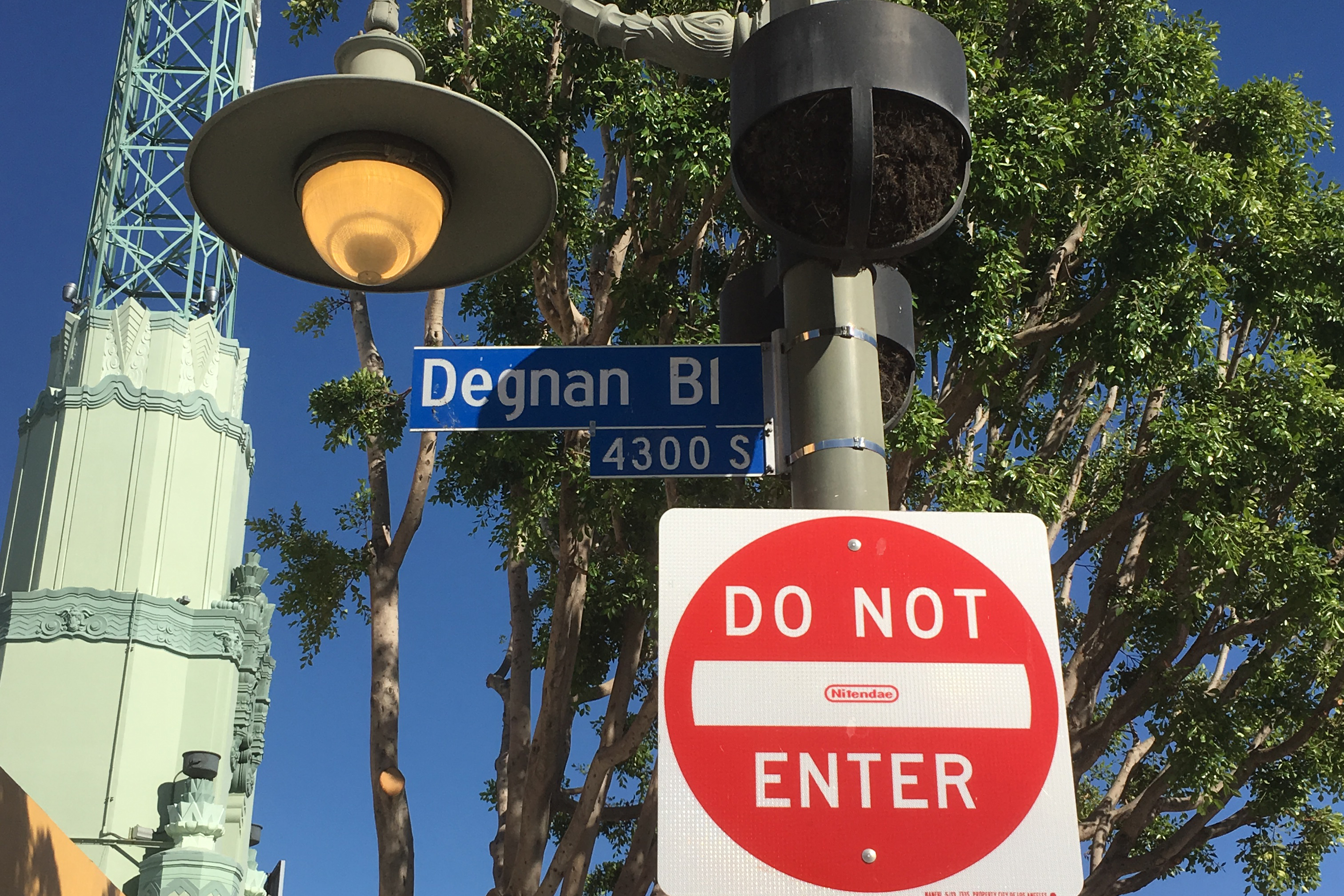 The teal tower of the Vision Theater stands in the background on the corner of Degnan and 43rd.
Bradley made Leimert Park the prevalent black neighborhood it is today, yet the civic engagement he incited surpasses the development he brought to those neighborhoods. Despite these grievances, Caldwell, known as the "Father of Leimert Park", and Burks, a longtime city employee, agree that the change Bradley brought far outweighed the negatives of his term.
"I actually got to interview him," Caldwell said. "I was really super impressed with the individual. He was really focused, clear, impressive figure, highly intelligent."
"He had a clear role in people becoming engaged," Burks said. "People felt like they could reach out, feel him, touch him."
From LAX to Leimert Park, there is no escaping the impact of Tom Bradley.
Visit Leimert Park's website HERE
How Barack Obama Changed Leimert's Mentality