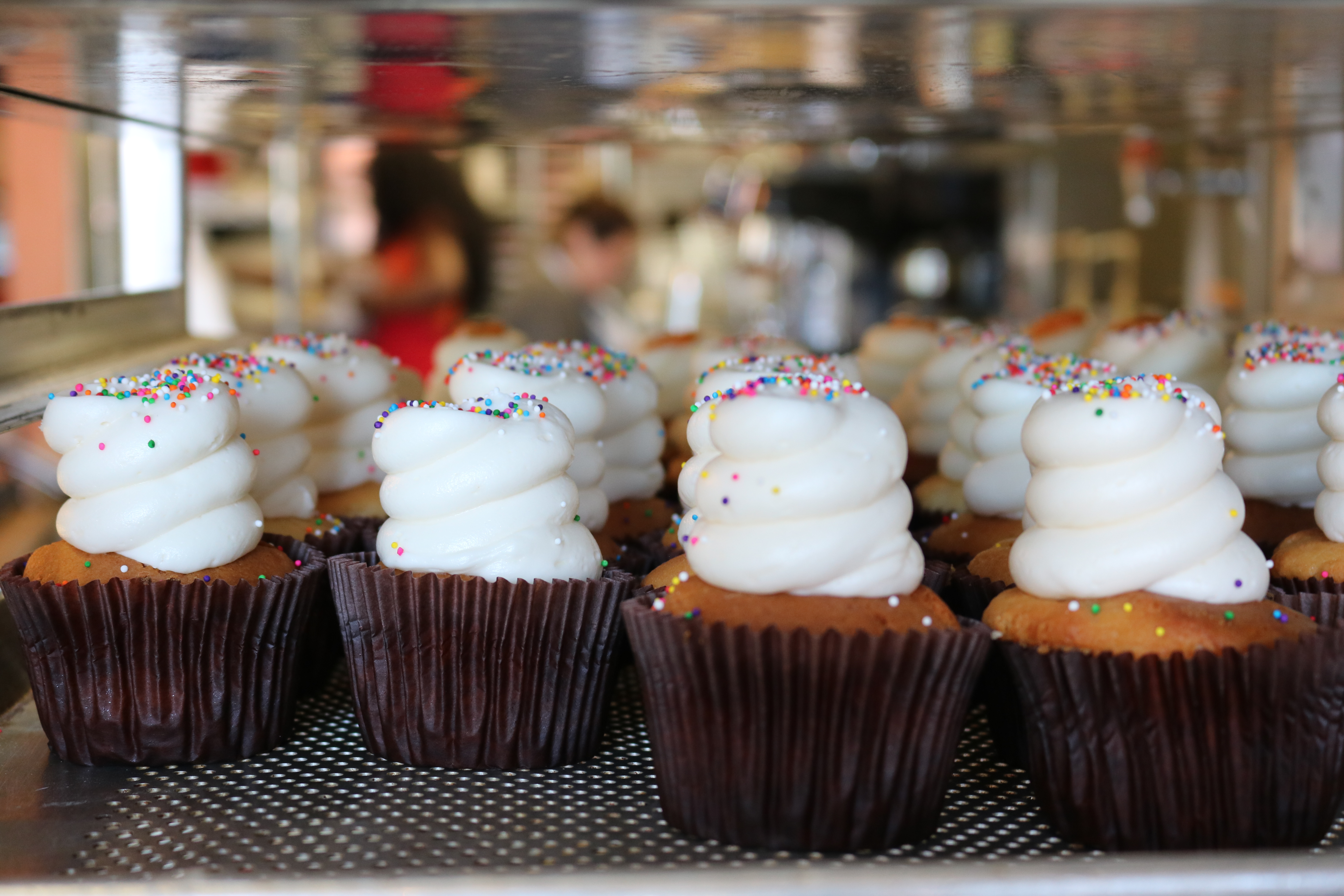 Tastes of Tradition
For those who frequent Southern Girl Desserts and Dulan's on Crenshaw, the traditional Southern fare is a reminder of home, or of a grandmother's home cooking. Catarah Coleman, co-owner of SGD, believes Leimert Park customers, some of whom she says are the children and grandchildren of black ancestors who fled the Jim Crow South generations ago, find comfort in the familiar flavors.
Self-proclaimed "dessert divas" Catarah Coleman and Shoneji Robison had only met once when they agreed to become business partners in 2008. Only six months earlier, Coleman had started Southern Girl Desserts out of her home, baking family recipes in an effort to build generational wealth.
Nearby, Robison was considering doing the same thing. The Florida natives both attended Florida A&M University and were living in Los Angeles, but their paths hadn't crossed. Mutual friends pushed them to meet up.
"Although the company wasn't started by us together, it was built together," explained Robison. "We got married after dating for thirty minutes," Coleman added, laughing.
Southern Girl Desserts sits at the edge of Baldwin Hills Crenshaw Plaza.
Now they co-own a brick and mortar location in Baldwin Hills Crenshaw Plaza. Customers can peer through display cases at frosting-stacked cupcakes and gooey, sugar-dusted peach cobbler, then sit with their treat under small, sparkling, crystal chandeliers.
Coleman says the idea to start a Southern bakery blossomed when she couldn't find her hometown flavors in the area. After turning her cravings for banana pudding and sweet potato pie into a business, she found the community shared her nostalgia for the comfort foods many had grown up with.
In the kitchen with the "Dessert Divas"
The co-owners of Southern Girl Desserts discuss how their cultures and family backgrounds influence their baking.
"They're two, three, four generations Californian and they've been removed, but they remember those flavors. When they come here it reminds them of the way their grandmother used to cook in Louisiana or Georgia, or down in Florida, so many decades ago," said Coleman.
The duo's Southern roots run deep. Although they haven't had formal training, they each credit their families with giving them the kitchen know-how that keeps customers coming back to their traditional flavors. Many of their recipes were passed down by aunts, grandmothers, and other relatives.
"Every single person in the family knows what they're doing in the kitchen, so you come here and you make the assumption that everybody can do this," said Robison. "Everybody can't do this."
Coleman says she felt especially affirmed when she and Robison won Food Network's Cupcake Wars in 2013. It was their third time competing on the show, and the win opened doors to name recognition and celebrity clientele.
"It definitely helps with confidence and it just kind of confirms that we're in the place we're supposed to be," she explained.
But as their business gained traction, they also had to learn how to deal with criticism. Since most of their recipes are tied to family members, that sometimes takes a thick skin.
"The more we grew and the more popular our bakery became the more critics came with that as well," Coleman said. "I had to make sure that when you said something that you didn't like about the banana pudding, that you weren't talking about my grandmother."
Robison doesn't worry too much about that, though:
"Even Beyoncé has haters."
The cake decorator
Selia Arroyo decorates cakes at Southern Girl Desserts. She started off experimenting with cake decorating at home after she was inspired by TLC's Cake Boss. She says the prospect of working at SGD was what motivated her to leave her job at McDonald's and finish her degree. Now, she features her custom cake designs on her Instagram.
Favorite bites
Restaurant owners Shoneji Robison, Catarah Coleman, and Greg Dulan discuss the foods they most crave on their own menus.