A Man's Dream Turns into Reality
YESSS is the program that is changing lives everyday.
Daniel Morales left the Central American country of Guatemala as a young adult and has now lived in Los Angeles for about 20 years now. It took time for Morales to find his calling until he moved into the neighborhood of Pico Union and MacArthur Park. Filled with kids playing soccer or throwing a football, MacArthur park is constantly filled with the sights of joyous laughter, smells of food on a grill but also filled with tent communities housing families. Morales, still looking for a calling realized that he had a mission to reshape the culture of the area and give children a calling.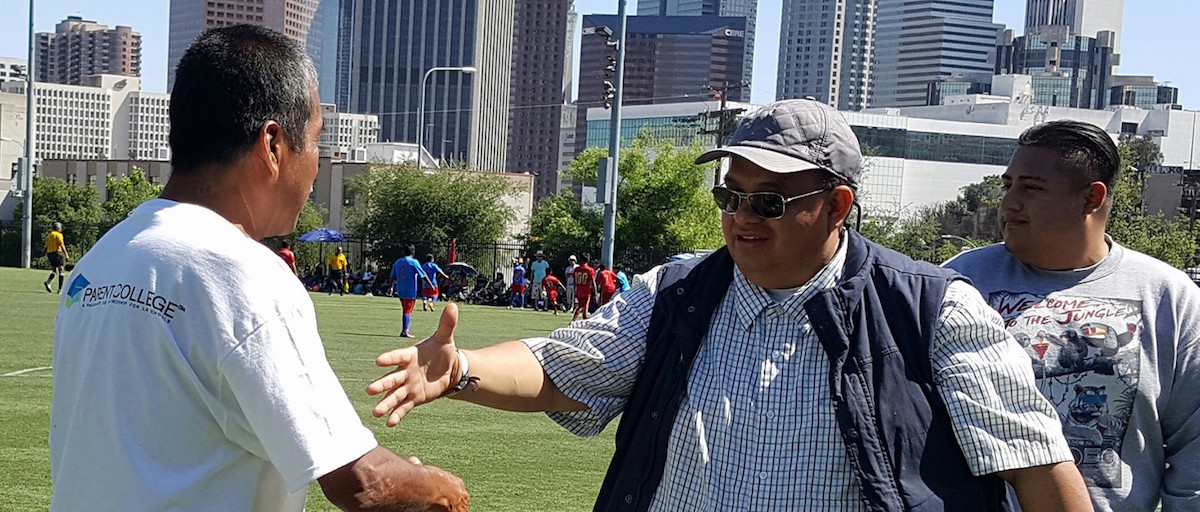 "I came to the United States because I was living in a war zone" Daniel Morales says as he sips his McDonalds coffee. "People just dont realize what an amazing place we live in and thats my goal: to give people the opportunity to live a life of happiness."
Enter Andy Ho and a weathered old soccer ball and this dream for Morales would soon become a reality. Ho is one of the directors of the MacArthur Park youth programs and has often found himself knee-deep in community service projects in the downtown area. When Morales came to him with his idea of a program to get kids off the streets through the power of sports, it was an idea that could not escape his mind.
This idea would ultimately culminate into YESSS and it was created in 2001. Also known as You Empowered through Scholastic Sports and Services, was started by Morales and Ho as their way of getting the children of Pico Union and downtown LA off the streets and into programs that would put kids on sports teams to learn colaboration and teamwork skills that children can take and use throughout their life. Similar to a YMCA, YESSS targets younger children to get them off the streets. This is what Morales wants more than anything, to give kids these skills but more important give kids a vision outside of the gang related culture that is so heavily rooted in the Latin American culture of Los Angeles.
"This area is just full of gangs and violence and kids get trapped in this bubble and eventually join these gangs." Morales said. "I knew I needed to find a way to get these kids off the street and give them an outlet that would prevent them from going down a bad path."
Listen to the founder as he talks about his amazing work.
But the question now is: why sports?
"There is something about working together as a team that helps people understand each other better." Ho said. "Constantly you are working together to achieve a common goal and that is to win the game."
Despite what some may think, the league is actually somewhat competetive. With nearly 30 teams, there is a regular season and eventually a playoff for different age groups. And at the end of the year the winner of each league does indeed get a trophy.
However not only does Morales understand the culture of the neighborhood in a since of the violence and other gang related incidents, but he understands how poverty stricken the area is. As opposed to actual YMCA where you pay membership fees upwards of about $53 a month, to be a part of the YESSS program, families pay just $20 a YEAR. Morales does not think money should be the issue that holds people back from pursuing a better life.
While Morales tries his best to boost kids livelihoods and their fortunes through the power of sport, it does not work out all the time. Morales says that the streets are extremely powerful and have their ways of seducing kids to go down a path that would lead them to that very prevalent gang culture.
"The worst thing is when I get phone call from a mother and she says 'Daniel my son is in jail' or 'Daniel my son has been killed' "Morales says as a small tear drops from his eye. "The mean streets are a very real thing that I don't think people realize. I've been to too many funerals for people younger than me."
Morales understands the importance that sports are having on these kids lives. Not only do the children play soccer, but they play other sports as well. Ranging from football to basketball, the kids learn about different ways to practice teamwork and together they try to create what Morales considers to be 'life connections', a thing that Morales says he values more than anything. The connections that he has made with the children are not only extending to their lives, but he is making an impact on the lives of their families; something that Morales says that he cherishes more than anything and people come back to see him to this day.
"I look up to Daniel like a father." Former YESSS member Eric Garza said. "He is someone that I look up to more than any one in this world."
But it doesn't stop at the visits, people treat him to gifts and even share good news with him.
"I get Christmas presents from some of these families; they treat me like some of their own." Morales slowly has a smile crawl onto his face. "When their son gets into college, they call me. When their child graduates high school they call me. I know that I have changed the fate of many children and that is what I want my legacy to be."
What started out as one immigrant's dream has turned into a reality. The program is still expanding Morales says but today there are just about 3,000 children who participate in the program and with the community service they do, they are at just about 20,000 hours. Daniel Morales and the YESSS program are reshaping the lives of kids and without Morales, things could be much different.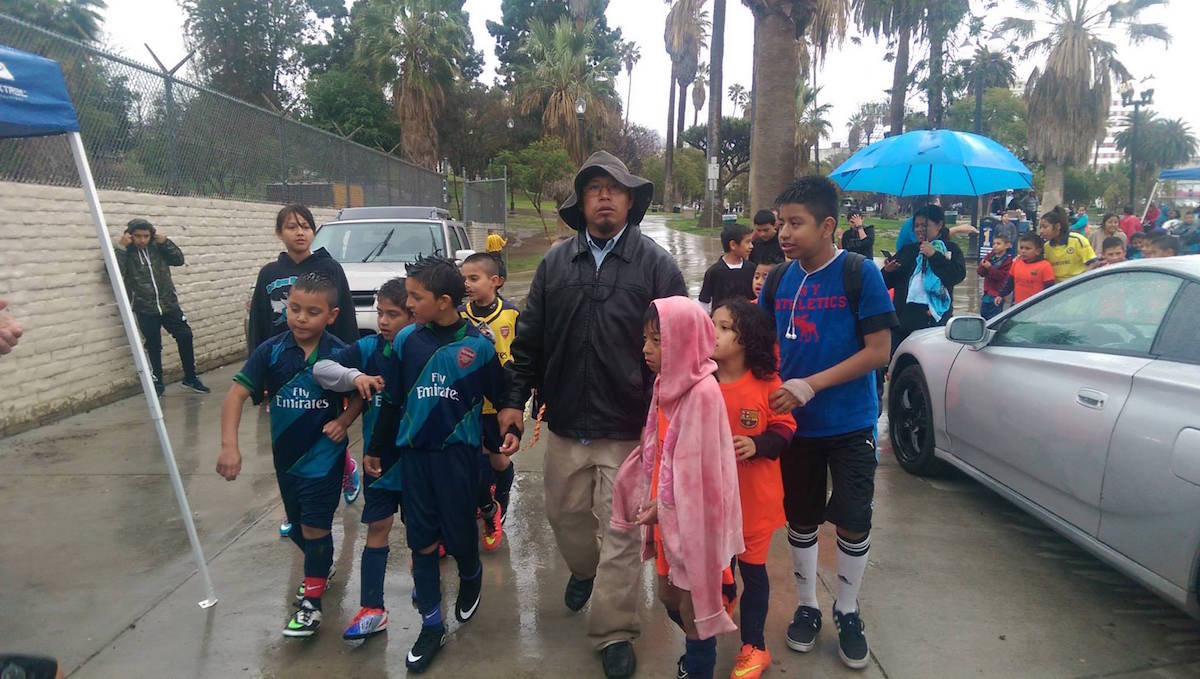 Members and Coaches of YESSS prepare for game in the rain.