I walked into Assistant Principal Paul Schroder's office, a fluorescently lit square space with a view over the brand new turf football field. Seated across from him was a female African-American student, whose name remains unknown to me.
So enthralled with her work, she barely noticed me walk in. Letting me take her place and do her work outside of Mr. Schroeder's office, I sat across from him.
He had a big smile on his face. "If it's not the United States," he said, "she'll be president of something."
A Word with Paul Schroeder
Shroeder is the assistant principal of the STEM School at West Adams. He was one of the founding administrators of West Adams when it opened in 2007, and actively led much of the preparation for the school's commencement.
According to Schroeder, this is a typical day in the life at West Adams Preparatory High School located in Pico Union.
Founded just 10 years ago in 2007, the public high school was created to become the area's first community high school to help alleviate the massive amounts of students who were being bussed out of their community for school each day.
Pico Union is low-income area in located in Downtown Los Angeles.
According to the Los Angeles Times' "Mapping L.A." database, nearly 85 percent of the city is Latino, and the median family income is just over $26,000 per year.
90.9 percent of West Adams' students are considered economically disadvantaged, thus the school is considered a Title 1 low-income academic institution by the LAUSD. Meanwhile, 90 percent of the school's students are Latino, and 27 percent of these students are English learners.
Despite the seemingly pervasive roadblocks to West Adams' student success, the school has made miraculous strides in its 10-year existence. West Adams' primary goal is to give its students the gift of opportunity.
"One of the biggest challenges that we have is we have ninth grade students that come in," Schroeder says. "And it's not that they don't want to be successful, it's that they haven't seen how their choices can impact their success without having that structure at home."
Free meal programs, extensive psychiatric and college counseling on campus, partnerships with local non-profits, and a strong faculty-to-parent community work together to make West Adams a beacon of hope for the community.
Yet, less than a mile down the road, the prestigious Loyola High School stands proudly with its palm trees, gothic brick buildings, and buzzing campus atmosphere.
At a high price tag of $19,400 a year, Loyola's students are some of the nation's top graduates. This past year, 75 students were admitted to all eight Ivy League Schools. The most-attended universities by the class of 2015 were Santa Clara, USC, LMU, UC Berkeley, and UCLA.
Meanwhile, West Adams' graduation rate was only 9 percent in 2008, and is now 37 percent. The disconnect between these two campuses is blaring.
"Our numbers should be better than West Adams'," Loyola Principal Frank Kozakowski said. "And if theirs are below ours, it's not a knock on them. It's more a knock on us for being a restricted population."
Loyola ushers in students from over 130 different elementary schools each year, representing 220 zip codes in Southern California.
Although some view Loyola solely as an affluent all-male high school, there are many students attending Loyola who are in financial need.
Each year, Loyola gives $3.1 million in financial aid to 22 percent of the student body. With $50 million in endowment, the school has the resources to be able to take in a large number of students from the local Pico Union and South Central areas.
Men of all races and socioeconomic classes attend Loyola, and students say that the differences in family income or ancestry are not noticeable within friend groups.
Diversity at Loyola: The Student Perspective
Loyola alum Kenneth Blackmon says, "The Loyola campus is special because you're getting kids who are from the valley that might not interact with kids that are from the East Side of Los Angeles, coming all together on one campus where they can come together as men and in communion be able to learn and educate themselves and grow and become better men for the world."
The football kids hang out with the theatre kids, and the boys who walk to school hang out with the guys who commute all the way from Orange County. So far, it seems Principal Kozakowski's goal of bringing about positive change in the community and encouraging diversity in friend groups has been effective, but there is always room for improvement.
"We've got to continue to find light and work for change," he says.
Loyola works actively in the local Pico Union community, especially in the January when all senior students take three weeks off of school to serve the schools, organizations, and shelters in Pico Union.
Although AP teachers are not too happy about this 3-week loss in classes, students appreciate the time to go out and serve.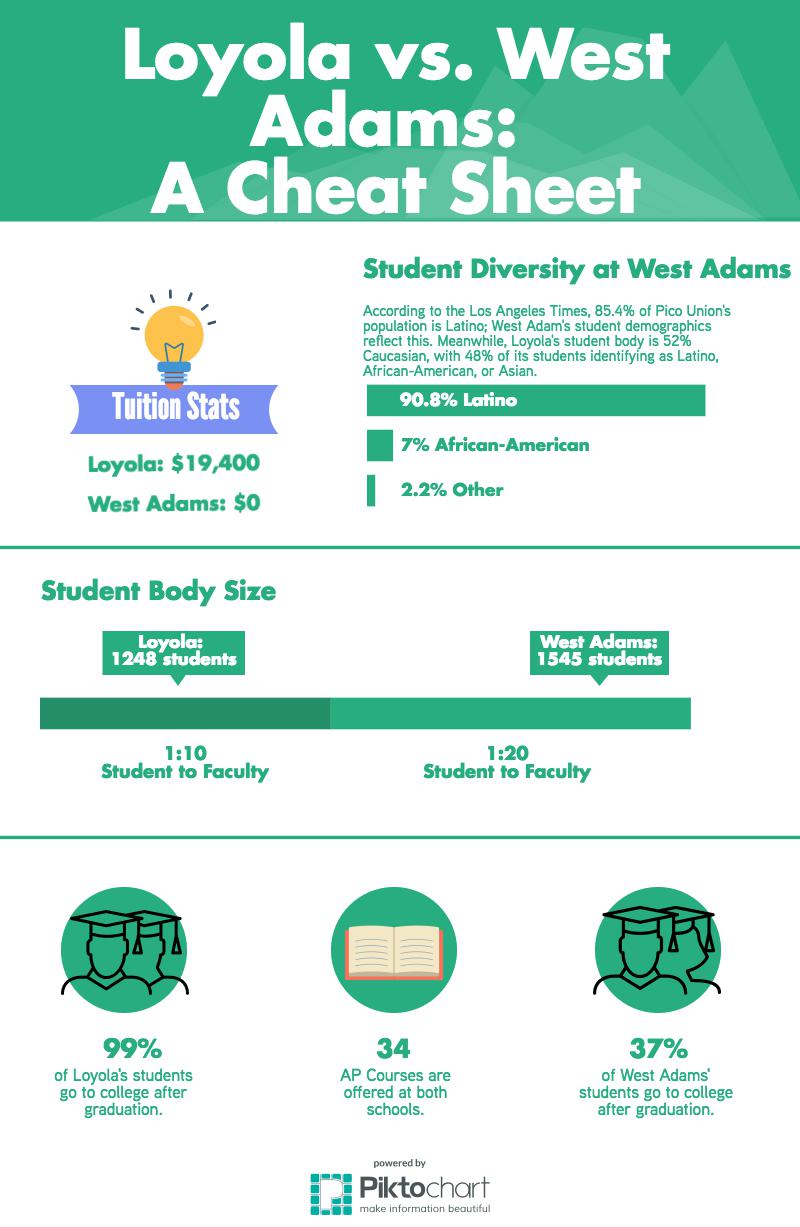 Nicholas Salinas, the Editor-in-Chief of Loyola's Paper "The Loyalist," reflects, "Loyola wants us to be respectful and understanding that the whole world isn't as affluent as some Loyola kids may be, because there definitely are people who struggle within the local neighborhoods," he says. "I think Loyola is just trying to do its best to help out everyone that they can."
Founded in 1865, Loyola watched Pico Union develop into the city it is today. Student body president Ryan Wallace believes the community appreciates Loyola and all its students do for its citizens and local businesses.
"I think that we are viewed as a staple of the community and it's a mantle we bear proudly. When this community was being built up, Loyola was at the forefront of that," he says. "So I think there's definitely that respect, just from a historical perspective."
Ryan is right. Back at West Adams, administrators look to Loyola to see how they can improve.
"Loyola creates a model for us because we want to try to create and replicate the same kind of experience—those senior activities, the dances, the events, the big football games—things that might be taken for granted at a school with a bigger network or more affluence versus a school that just doesn't have that opportunity," Mr. Schroder says.
He believes the school has made impeccable strides during the last decade, and has no doubt the school can someday be as resourceful and prestigious as Loyola.
"If a school can change a community, a community can change a city, a city can change a county, the state, the country," he says, looking out of his window upon the West Adams band practicing on the field. "Maybe we can change the world. We're just starting an idea and just spreading that idea like a virus."