Leimert Park's Fast Food Nation
How Leimert Park's food desert has impacted its residents
Leimert Park resident Michael Dixon pointed with disbelief in numerous directions to where the closest fast food restaurants are located.
"You have McDonald's right over here, you got uh Church's Chicken right here down the street, you got Krispy Kreme. All of the sugar, all of the GMOs, and people are consuming all of that," Dixon said with concern.
According to the United States Department of Agriculture, Leimert Park is one of several food deserts located in the South Los Angeles region on their map Leimert Park residents are worried about the overall well being of its people and are monitoring obesity and diabetes rates.
Source: Google Maps
In an article written by Centers for Disease Control and Prevention, 29 million people in the United States have been diagnosed which is 9.3% of the nation's population. Since 2010 the national number has increased by 3 million, showing that diabetes rates have continued to grow.
Aside from national statistics, Healthy African American Families II (HAAF) analyzes diabetes in Los Angeles County specifically in Korean, African American, and Latino communities like Leimert Park. In Los Angeles County 500,000 residents have been diagnosed with diabetes.
Diabetes and obesity are two main concerns in Leimert Park and studies have proven that the prior ban of fast food restaurants in the area did not decrease obesity rates.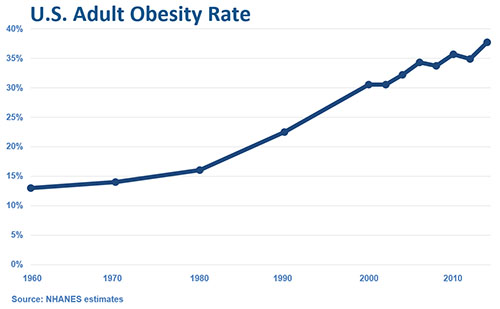 Source: NHANES estimates
In 2015 RAND Corporation study released statistics that from 2007 to 2012 the percentage of obese Leimert Park residents elevated. This was the opposite of what the intention was for the 2008 ordinance to ban fast food restaurants in the area
"You can tell just by the energy of the people," Dixon said. "What you eat is what you're going to express so when you see people walking around sick, in wheelchairs, disoriented, you know no energy it has to do a lot with the food and medication that is being disseminated in this area."
Residents do not feel like they have enough healthy food options around them. However, recently there has been a higher presence of farmers markets in the area giving citizens more options to buy fresh produce besides a grocery store. For example, there is a farmers market held every Sunday afternoon on Degnan Boulevard and West 43rd Place.
"If farmers markets come into the lower income neighborhoods they can provide fresh produce and that is something that is very positive," said Dave Heylen, VP of Communications for the California Grocers Association.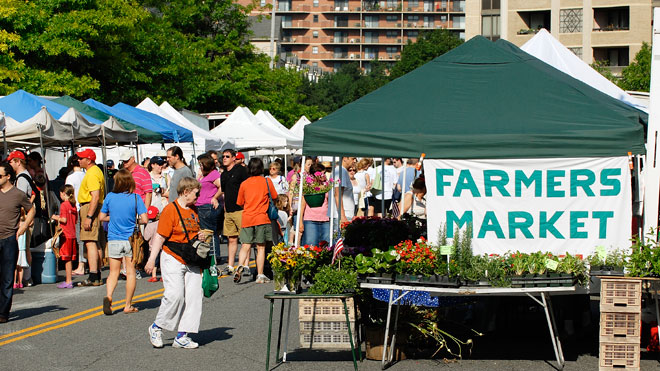 Source: northboroughapplefest.com
Dixon compared the residents of Leimert Park to the walking dead, implying that the residents look like zombies as they walk around purposeless as a result of the lack of healthy food. He believes they are not consciously aware of healthier food options because they are not explicitly offered in this area.
List of Fast Food Restaraunts in Leimert Park
McDonald's
EL Pollo Loco
Krispy Kreme
Church's Chicken
Subway
7-Elevan
Jack in the Box
Rally's
Happy's Pizza
Kentucky Fried Chicken
Popeyes Louisiana Kitchen
Panda Express
Residents and visitors of this neighborhood have become frustrated with deprivation of hearty choices. Leimert Park native Jamar Morgan believes that "fast food is an early death" and visits the farmers market for vegetarian bean tacos every Sunday.
While Morgan identifies as a vegetarian, Leimert Park local Clarence Eziokwu Washington says he is a clean eater who was raised in an anti-junk food family. He works closely with urban farming and sees the negative impact that the fast food presence in his city has on people.
"We look at the obesity rates," Washington said. "Why obesity? It's because you're not eating right. Your body is getting more sugar and diabetes is on the rise. So why is that? You have to look at the reason why you let the junk food kill you."
Fast food is so popular in low income neighborhoods like Leimert Park because of factors like low prices and convenience.
"If you have $5 in your pocket are you going to go across town and spend $10 on gas just to get something to fill you?" Washington said. "You need something that is immediate. Like I said this area is a food desert. So what does a food desert consist of? Not enough food for your health."
Some consider food deserts to be a leading factor of obesity in neighborhoods like Leimert Park and residents lean toward fast food to fill their bodies since other more wholesome options are inadequate.
According to Washington, "There are a lot of food deserts around here. So food deserts mean that folks don't have natural food and they aren't eating what they're supposed to eat. We have places like Junk in the Box, Booger King, Killa Fried Chicken, and we look at the obesity that exists because you aren't eating right. It really affects the people in this area specifically."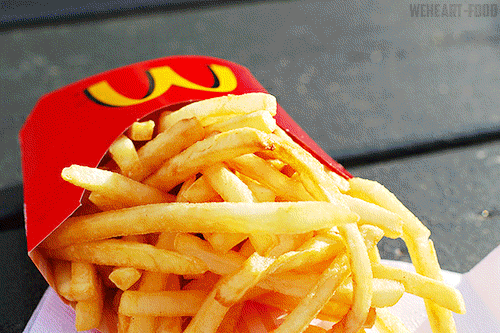 Source: wifflegif.com