Small Businesses in Jefferson Park Face an Uncertain Future
Small businesses have remained a staple of the Jefferson Park community for years. Yet more and more, as the incomes of locals decrease, and the low cost of property and commercial investments lure wealthier occupants, the role of small business in this predominantly black and Latino community becomes questionable.
Pedro Escobar works at Lupita's Market, a shop that sells latin american food products. He says the people rely on their store for their everyday groceries.
"A lot of the people don't have cars, or they don't have reliable cars, so it's not easy to get to the supermarket," shares Escobar.
Lupita's is a neighborhood one stop shop that supplies the community with fresh produce, meat, staples like rice and beans, toiletries, and even piñatas.
In a community that is nearly 45 percent Hispanic, the desire to have a space that sells products from home is an important one. Isabel Garcia, a resident of Jefferson Park who immigrated from Mexico, goes to Lupita's Market to find products from her native country.
In an interview conducted in Spanish, she said "I moved here 5 years ago, and even though I'm in a different country now, I never feel too far from home because I'm surrounded by people who speak the same language. I can buy the same snacks for my kids here as the ones I found back home."
Nearly 20 percent of Jefferson Park's residents have some type of Mexican ancestry, so stores like Lupita's are a staple of the community.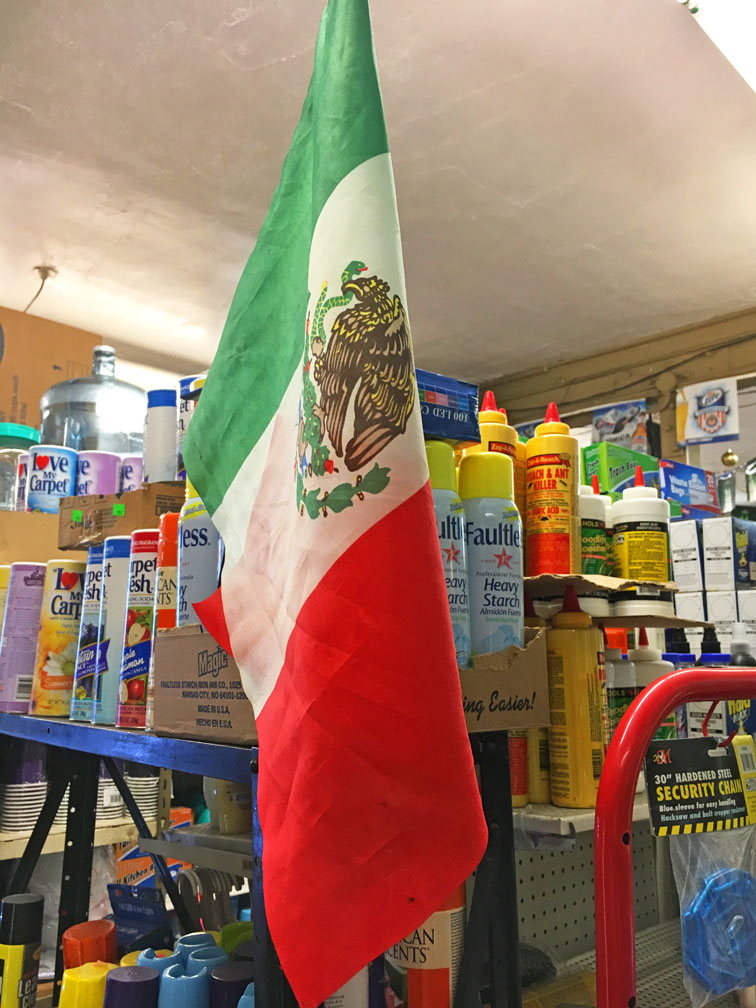 A Mexican flag hangs proudly in between products at Lupita's Market.
Yet more and more, these small shops tailored specifically to the Hispanic community are being forced to close. Shop owners say the increasing price of rent, and their customers' financial struggles are to blame.
"The people are struggling" says Olga Matias, a former shop owner and resident of Jefferson Park.
Matias once rented a retail space on Jefferson Blvd where she sold bedsheets, curtains, and other home goods. After the rental prices became too high, she found herself questioning how to keep earning money. Matias now peddles her goods along Jefferson Boulevard in a mobile cart.
She shares her story in the slideshow above.
The average income in this community is under $33,000. When the people are struggling, they lack the disposable income necessary to spend on luxuries.
Rental prices have increased dramatically in the neighborhood. In September, The LA Times reported that homeowners who have been in the area for years fear being displaced due to rising rental prices and the looming threat of gentrification.
According to the 2000 census, average rental prices in the area ranged from under $400 to a high-end of $844.
These Days, residents would be lucky to find a rental under $600 and most rentals in the neighborhood are over $1,000. This data comes from 2014's American Community Survey.
According to the LA Times, "The largely African American and Latino area has struggled to attract investment for decades, particularly after the 1992 riots."
Now, as new businesses are finally coming in, small business owners are being pushed out of their shops because their businesses are now considered lucrative commercial spaces in an up and coming neighborhood.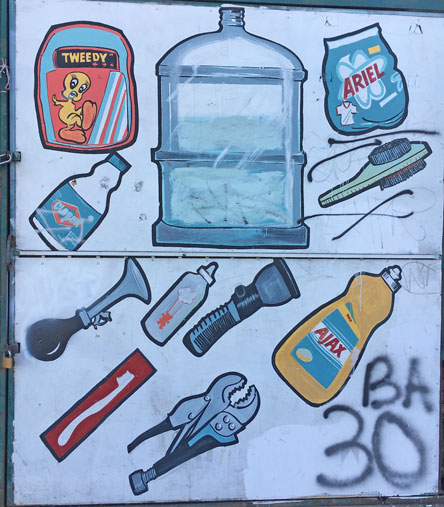 Small businesses are woven into the fabric of Jefferson Park. They even make an appearance in one of the neighborhood's murals.
However, the future isn't all bleak for long-time shop owners. Mita Figueroa-Correa opened Joshua's Guatemalan store 20 years ago because of a desire to reconnect with her home country.
She says "We always want to go back to our roots. Clearly I'm not the only one who feels that way because here we are 20 years later and still going strong."
Figueroa-Correa does not feel threatened by the looming threat of gentrification.
She says "The Latinos aren't going anywhere. People know me and they trust in the quality of my products."
"There are fewer customers than before, but they are loyal customers, and I'll be here for them as long as I can" she says.
An estimated 30 to 50 percent of the area's residents are foreign born, so Joshua's Guatemalan store, which sells clothing and accessories from all over Latin America, has many potential customers.