Why are illegal vendors allowed to continue selling from sidewalks?
LAPD officer Frank Garcia addresses the hundreds of stalls that line the streets near MacArthur Park.
WESTLAKE-- Walking down Alvarado Street, it is practically impossible to miss the colorful umbrellas that line the sidewalks, each shielding a vendor selling everything from dish detergent to knock-off designer bags. Hundreds of vendors occupy the edges of the streets surrounding MacArthur Park, each one manned by a different family selling vastly different wares. Yet, they are all bound together by one fact- every last vendor is conducting business illegally.
Indeed, selling wares on the sidewalk is completely illegal in Los Angeles. So the question remains, how are they getting away with it? As it turns out, they aren't 'getting away' with anything, they are being allowed to conduct business by the officers of the LAPD Rampart Division.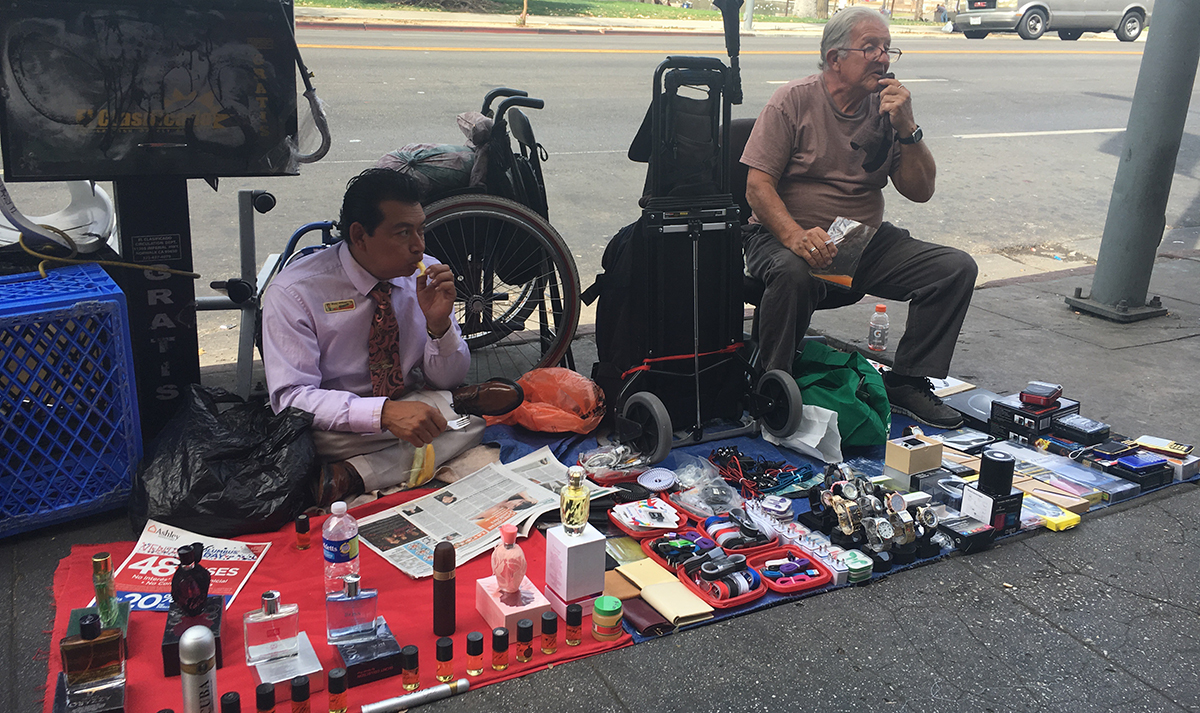 A father and son duo selling on a Sunday morning.
As for the rationale behind police officers allowing illegal activity, the reasons are simple. First and foremost, according to Senior Lead Officer Frank Garcia, they simply don't have the resources to deal with such an immense number of street vendors. In an area that is so notorious for heightened drug and gang activity, the already- underfunded station is unable to divert important resources from cases that are far more critical.
Recognizing that they simply lacked the manpower to keep the sidewalks clear permanently, the Rampart LAPD looked into another measure of keeping control – community policing. Community policing can be defined as the practice of assigning police officers to areas to make them familiar with the locals. In Westlake, the LAPD has gone above and beyond this practice.
According to Officer Garcia, it all begins with just a conversation- "you gotta get to know them, and the only way to do that is by talking to them – learning about where they are from, their history, their socio-economic life, lifestyle, everything about them."
Almost 70 percent of Westlake's residents are foreign born – with the highest numbers from from Mexico (37%) and Guatemala (8%). Garcia believes that this knowledge is imperative in knowing how to best serve his community. In fact, indigenous leaders from many of the smaller South American countries host informative seminars for the LAPD, usually attended by the community – relations officers who interact most with residents out in the field.
Officer Garcia and his team know that street vending is extremely commonplace in the South and Central American countries where most of their residents were born. Thus, they know that this trade is the only way many know how to provide for themselves. And, indeed, this is exactly how hundreds of families have been putting food on the table for decades. To take this away would be taking away paychecks from countless residents, and setting the stage for potential protests.
Instead, the officers have constructed a middle-man structure to help with their policing of the vendors. Each group of 60 or so vendors elects a 'leader' who reports directly to the LAPD. This leader regularly relays information to the officers and is also in charge of settling any and all disputes between vendors, whether it is about sidewalk space or selling of similar products. This way, the police doesn't get unnecessary calls from vendors which would take up resources that could be better allocated elsewhere.
According to Garcia, there are five main reasons why the police might get involved with a vendor. The first is the sale of pornography, which is explicitly banned and will prompt the officer to confiscate all DVDs and arrest the seller. Secondly, food vendors cannot sell food out of street carts if similar dishes are being sold at a restaurant on the same block. Third, the selling of live animals is strictly forbidden. Technically, even the possession of chickens or ducks is illegal, but the problem is too widespread for them to enforce it.
"We don't have the time to crank out a ticket for ten minutes, we should be driving around trying to deter crime," said Garcia. Fourth, vendors' stalls should not restrict access to fire hydrants, as the cramped spaces are already a cause for concern in terms of fire safety. The last, and most common, complaint is when vendors block MTA bus stops causing problems for handicapped people to navigate through the crowd or even making buses bypass the stop completely.
It is clear that, in Westlake's case, community policing is incredibly important for both residents and law enforcement. When the police take the time to know their residents, they also get to know the main players in an area. They learn the gang territories and know what to look out for in case of potential conflict. For example, the presence of a rival group Locos 18 on Crazy Riders' territory is a sure sign of heightened gang tensions.
Generally, the practice of community policing has also been extended to other sectors of law enforcement such as community prosecuting. Prosecutor Andrew Said explains further in the video below.
Community prosecutor Andrew Said talks about the challenges he faces on the job
The main advantage of knowing the residents is knowing who spends most of their time in and out of jail. With this knowledge, law enforcement knows who to turn to when faced with a case that has the same M.O as a previous one. More importantly, Rampart officers agree that a police presence in places with high traffic is made more effective when the officer is one who has been a permanent fixture because they know better than anyone what signs and people to look out for in order to avoid trouble.