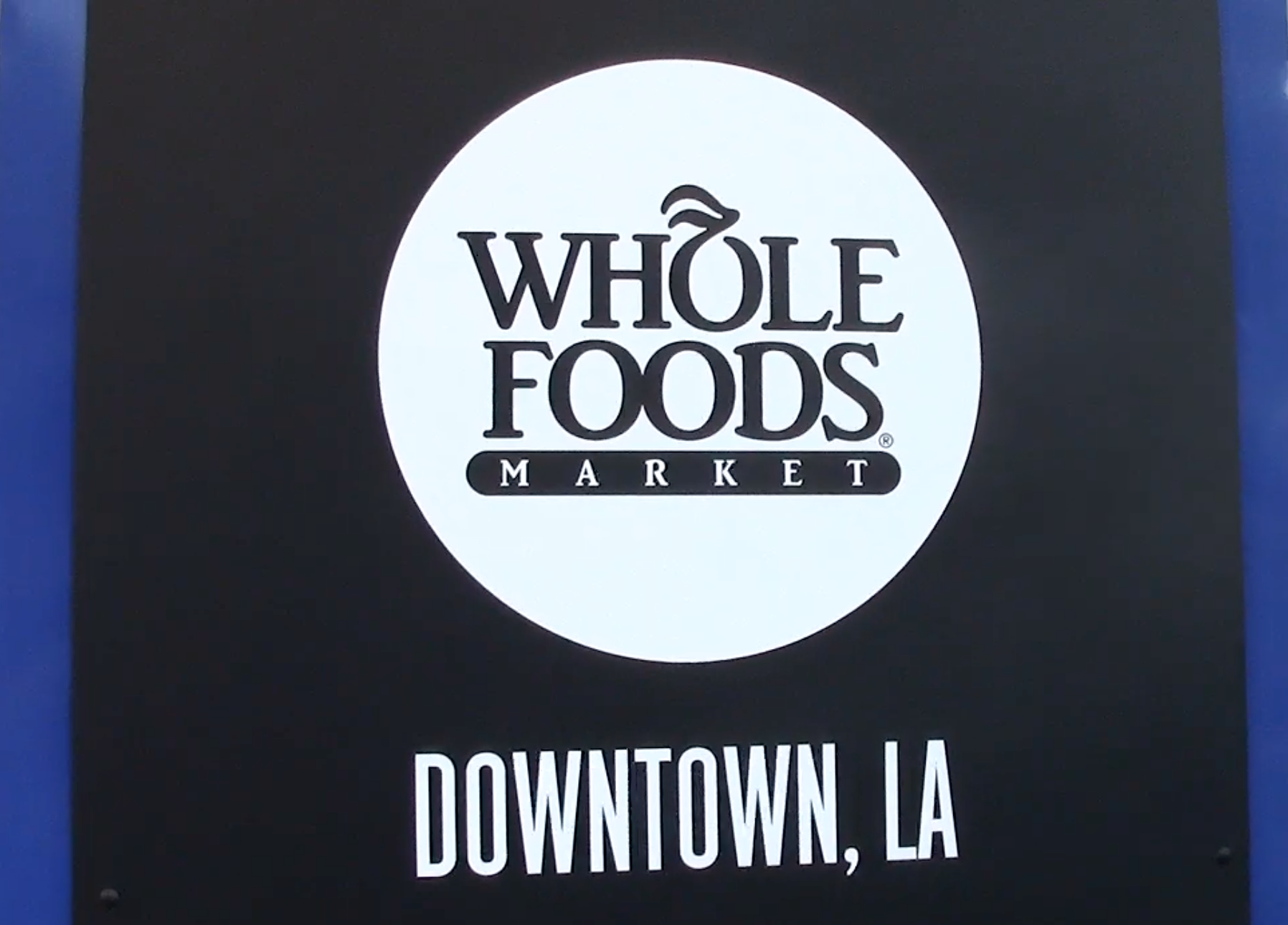 The significance of the new Whole Foods and its fellow grocery stores
How the mega supermarket has filled a gap in the Financial District - while coexisting with its peers
It's hard to think of the Financial District as a hub for anything else other than corporate offices, but the local grand opening of a popular grocery chain has helped satiate residents' desire for an upscale supermarket.
Only a few short months ago did a highly-anticipated Whole Foods Market open in the Financial District of Downtown Los Angeles, and its expansive 41,000-square-foot space is home to a plethora of amenities exclusive to this location including a restaurant and bar, self-ordering kiosks for food made in-store, and grocery delivery by bicycle within a three-mile radius.
"We are excited to be in the Downtown Los Angeles community. So far our store has been doing well, and we can't wait to see what the future holds," Sylvia Gonzalez, Downtown Los Angeles Whole Foods Marketing Team Leader, said. "Whole Foods Market has wanted to open a store here for the past ten years, and we're so excited to have finally been able to do so."
With 13 L.A. County stores, it is widely considered to be in the premium tier of grocery stores, primarily offering wholesome organic and health-conscious fare.
"This [downtown] store was designed to provide an eclectic mix of the best ingredients and foods available for shoppers of all diets and lifestyles," Patrick Bradley, President of Whole Foods Market's Southern Pacific Region, said. "From the large prepared foods section for professionals on the go with self-service pizza and delicious vegan and paleo options, to a new affordable option for happy hour or brunch, to our wide range of curated wines, beers, and spirits, and even down to offering smaller cuts of meat and fish for singles or families of two - there's something unique for everyone."
In 2006, there were zero grocery stores in all of downtown. Now, nearly 10 years later, many have since sprouted, but some feel there has been a lack of viable options from which to purchase produce for a home-cooked meal - until now.
"It's a good place to be, but for a while now I've wanted to be able to buy groceries after work even though I don't live here," Kristie Shu, who works in the Financial District, said. "I'm glad there's a Whole Foods open now because I really feel like the area needed a stable grocery store that offers everything with a brand people can trust for all the visitors or people who work or live here."
Indeed, the opening of this Whole Foods is case and point that the mega-powerhouse chain only plans to continue to become bigger and better - and it's a win-win situation. Even though it's now readily available to Financial District residents and visitors to satisfy their craving for health foods or for an aesthetically pleasing shopping experience, smaller mom-and-pop grocery stores actually aren't feeling the weight of competition.
Bunkerhill Market Deli & Liquor was the only market in the entire area for many years. An off-the-beaten-path type of place, it's tucked away in an apartment complex, the Bunker Hill Towers, but that hasn't made it any less appealing to its visitors.
Locals continue to frequent the spot because of its surprisingly substantial selection that defies its convenience store-like size, as well as its accommodating employees. Moreover, it's the only other permanent market categorized as a grocery store in the Financial District.
"These guys are so nice," Jennifer Keller, a part-time resident of Bunker Hill Towers, said. "They have just about everything. Anything they don't carry they'll order and stock for you if you just ask."
Chad Abboud, owner of the market, noted that his store's sales have not suffered since the opening of Whole Foods and have rather remained stable.
"Even though Whole Foods is new and now open, it really ultimately attracts a different crowd," Abboud said. "So it's different. Our customers are our customers; they know us and we know them."
Besides Whole Foods, the only other market he feels is prominent in the area is the Ralphs on Ninth Street which lies outside the Financial District, in addition to another small-scale market called Old Bank District Market. Its manager Michael Wanenmacher also doesn't fear competition from Whole Foods, as he knows his local customers are tried and true.
"Frankly, the opening of the market doesn't really affects us that much. Each part of downtown has its own people that don't venture outside their areas," Wanenmacher said. "We've been here since 1998. We see the same people every day, and our business has experienced an average growth of 8 percent over the years."
Within the area, it's no secret that Whole Foods and Bunkerhill Market are the primary grocery outlets. And while one might think some wouldn't even bat an eye at the latter because of its low-key appearance, it has been thriving for decades and continues to only see steady growth due to its loyal patrons, a testament to the overall niche-based mentality among members of the Financial District community.
It boils down to how though there may exist a dichotomy in size and apparent power between Whole Foods and smaller markets, Bunkerhill Market is ultimately its only competitor in the immediate area, and even so they seem to be coexisting. But how can this be?
The answer is simple. The Financial District is just one of the many niches in downtown, whose businesses each have their own loyal customers for different reasons. So yes, the dichotomy is present, but it's a win-win situation in that both Whole Foods and smaller markets can exist in harmony.
As far as the shiny new Whole Foods itself goes, management and customers alike agree that though perhaps overdue, the market has finally filled a gap in downtown by being the only permanent large-scale grocery store in the Financial District, something that hasn't existed in decades.
"We hope that we're making it easier for the Downtown L.A. shoppers to find organic, holistic, and local ingredients in their local neighborhood," Gonzalez remarked.
Spotlight on: Bunkerhill Market and Whole Foods
Click and listen to learn about these Financial District hot spots.
Chad Abboud, owner of Bunkerhill Market, talks about how the local favorite has fared as being the only market in the Financial District for years - and what makes it so special.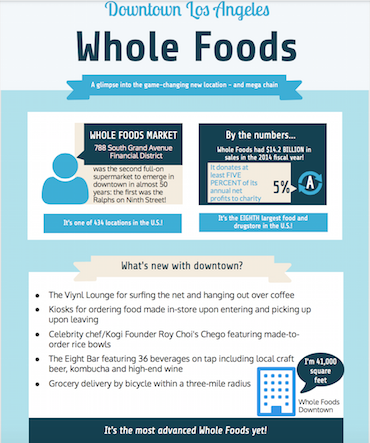 A look at the mega powerhouse chain as a whole and its newest, most luxurious location in the Financial District.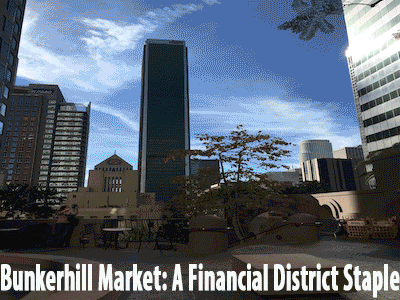 Bunkerhill Market: Pics worth 1000 Words
Get a glimpse of what the only small-scale grocery store in the Financial District of Downtown Los Angeles looks like.
A glance at some Downtown Los Angeles grocery stores
Tracing the origins of supermarket chains to their roots